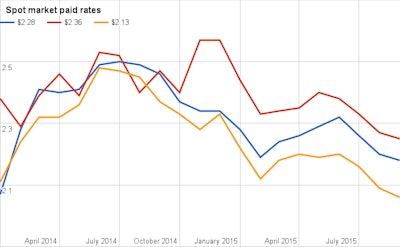 Average per-mile rates on the spot market in all three major truckload segments fell in September from August, according to data from Truckstop.com, following up on big drops seen in August.
Rates in all three segments were also well below September '14 averages, with each being down more than 20 cents from last September's averages. Loosening of industry capacity of late, along with cheaper fuel, have put downward pressure on gross rates. Line haul rates have generally continued to trend upward.
Paid rates, verified averages of rates paid to carriers in the month, fell 2 cents in both flatbed and reefer segments.
Paid reefer rates in the month averaged $2.25, down 22 cents from September 2014. The flatbed rate average has fallen 15 cents since May, according to Truckstop.com data. Posted reefer rates in September, pre-negotiated rates posted by shippers and brokers, rose 3 cents to $2.06.
Paid flatbed rates fell to $2.18, a 28-cent drop from last September. Flatbed rates this year peaked in June but have fallen every month since, down 14 cents since. Posted rates in the segment in September fell 4 cents from August.
Van rates fell 3 cents to $2.06 in September. That's a 31-cent drop from last September and a 16-cent drop from their 2015 peak in January. Paid van rates are down 14 cents from their most recent peak in June.
Here's a look at paid vs. posted rates for all three segments in the month (data from Truckstop.com):