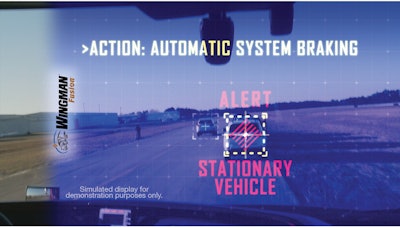 A Department of Transportation agency this week said it has begun work to determine whether it will pursue a federal rule to require new trucks to be equipped with crash avoidance systems that automatically brake without driver input.
The DOT's announcement came in response to a petition filed in February by several pro-regulatory agencies like the Truck Safety Coalition, the Center for Auto Safety, Advocates for Highway and Auto Safety and Road Safe America. The mandate has also been recommended by the National Transportation Safety Board.
The DOT's National Highway Traffic Safety Administration, the agency responsible for such a mandate, did not say when it would make a decision to create a rule or not.
It did say, however, it has been studying and will continue to study the systems and its decision will be "made after study of the requested action and the various alternatives in the course of the rulemaking proceeding."
Systems like those from Bendix and Meritor WABCO have been spec options on all major heavy-duty truck makers for several years. The systems employ things like sensors, radar and camera to scan the road ahead and can automatically brake to prevent rear-end crashes when they detect the threat of one.
NHTSA, using terminology from the safety advocates' petitions, calls them forward collision avoidance and mitigation (FCAM) system.
The agency this year published a Final Rule to require all new trucks weighing 26,000 pounds or more to be equipped with stability control systems. That rule took effect Aug. 17.
Crash avoidance systems that automatically brake are already required in Europe, NHTSA says, which should aid the agency in its testing, it says.