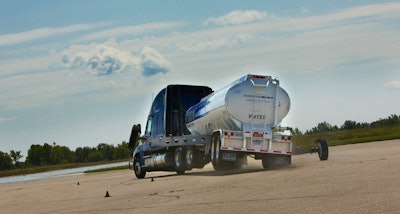 The National Highway Traffic Safety Administration published a Final Rule n the Federal Register Tuesday that will require all trucks made Aug. 1, 2017, and after to be equipped will electronic stability control systems to prevent vehicle rollovers.
The standard requires that truck tractors and certain large buses with a gross vehicle weight rating of greater than 26,000 pounds be equipped with these systems.
ESC systems use engine torque control and computer-controlled braking of individual wheels "to assist the driver in maintaining control of the vehicle and maintaining its heading in situations in which the vehicle is becoming roll unstable or experiencing loss of control," according to NHTSA.
The mandate is aimed at truck manufacturers, not truck buyers and owners, and applies to "typical three-axle tractors." The mandate only requires stability control systems and not broader active safety systems that brake autonomously.
NHTSA's rule was required by the 2012-passed MAP-21 highway funding act, and NHTSA says the rule will prevent between 1,424 and 1,759 crashes a year and prevent between 40 and 49 deaths a year.