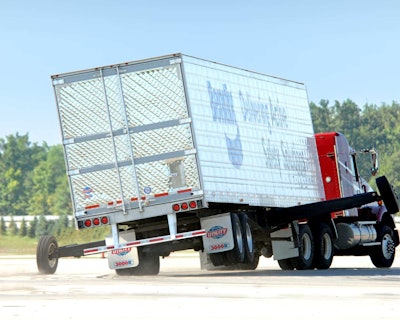 The National Highway Traffic Safety Administration June 3 published a Final Rule requiring that all trucks made Aug. 1, 2017, and after be equipped with electronic stability control systems that prevent vehicle rollovers.
The mandate is aimed at truck manufacturers, not truck buyers, and applies to "typical three-axle tractors." The mandate only requires stability control systems and not broader active safety systems that brake autonomously.
NHTSA's rule was required by the 2012-passed MAP-21 highway funding act, and NHTSA says the rule will prevent between 1,424 and 1,759 crashes a year and prevent between 40 and 49 deaths a year.
The systems, says NHTSA, use braking and steering mechanisms to keep trucks "maintan[ing] directional control" that can deploys quickly enough to prevent crashes.
NHTSA says monetary savings on crashes, reduced congestion and damage to property will yield a yearly societal benefit that ranges from $3.6 million and $19.2 million.
While the American Trucking Associations supports the rule, the Owner-Operator Independent Drivers Association does not, citing increased costs of trucks as its reason. NHTSA overestimated the benefits of the mandate, OOIDA says, while underestimating the ultimate costs to truck buyers.