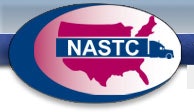 At the annual meeting of the National Association of Small Trucking Companies October 29-31 in Nashville, Tenn., driver Dennis Ohlendorf was one of 11 new inductees to the association's team of drivers to receive its driver of the year honors.
Ohlendorf got his start trucking as a child raised on a farm in Illinois, where he lives today in Smithton and pulls a dry van in a 2013 Freightliner Cascadia for Cayenne Express and its owner, Bob Christ, also on-hand for the celebration. Ohlendorf's long driving career stretches back to 1975, when he got his start driving on the farm and then went to work for a different small fleet. He joined 33-truck Cayenne Express almost 13 years ago, when the fleet was smaller, and over all those years he's amassed more than 4 million accident-free miles.
Ohlendorf attributes his success to a clear-eyed and intense situational awareness on the road — "I'm always on the lookout for anything, very cautious about what I do and always watching for the other guy's mistakes," he says.
But his success is also attributable to the company he keeps, from support from Cayenne to, most important, that of his family at home. Ohlendorf's wife, Pat, joined him for the Nashville event, and Dennis mentions three daughters and seven grandchildren all close by his home for most weekends he spends there.
Also among the drivers honored was independent owner-operator Ingrid Brown, past Overdrive's Most Beautiful finalist, who was named NASTC's "Woman Driver of the Year."
Of the remaining 9 NASTC Team 2015 members, all but three have put more than 3 million safe miles behind them, and none less than 2 million. Details follow.
**Larry Borck, Tom Gullickson, 20 years, 2.5 million miles
**Lonnie Brice, Triple R Trucking, 44 years, 5.5 million miles
**Ingrid Brown, independent, 35 years, 3.73 million miles
**Frank Marnach, Martin's Bulk Milk Service, 23 years, 3 million miles
**Michael Meluch, Cowen Truck Line, 44 years, 2.5 million miles
**Dennis Ohlendorf, Cayenne Express, 40 years, 4.3 million miles
**Mark Ort, Fischer Truck & Bus Service, 44 years, 3.52 million miles
**Dave Osborne, Waletich Corporation, 21 years, 2.8 million miles
**Robert Louis Parrish Sr., Barnes Transportation Services, 48 years, 6.24 million miles
**Donnie J. Razor, KD On-Time, 29 years, 3.5 million miles
**Mark Schimelpfenig, Hull Transport, 40 years, 6.3 million miles