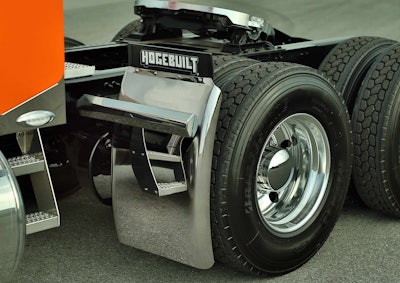 Since most of you are busy enough trying to manage your own business, it's likely you occasionally might have missed a few announcements for new products that we frequently relay to you at OverdriveOnline.com.
This week, our "Gear Rewind" series takes a look back at some recently introduced aerodynamic, chrome and other related add-ons designed to help you keep your truck looking and working its best.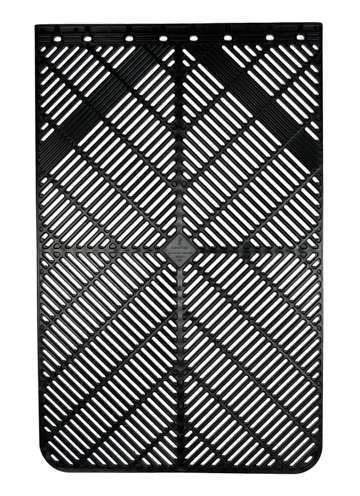 Fleet Engineers' AF-19 AeroFlap mudflap for wide-base tires is designed for spray suppression and enhanced aerodynamics. The 19-inch-wide mudflap has a diamond-patterned design that allows air and water to flow through the flap, which helps reduce vehicle drag and rain spray while increasing fuel mileage and airflow to vent heat away from tires and brakes.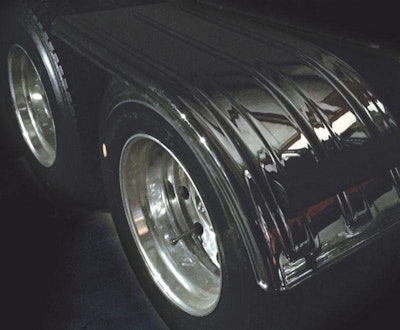 Minimizer's Smoky Black Mirror fender has a dark-tinted smooth finish designed to reflect like metal but is made from the same polyethylene material as the company's Tested and Tortured fenders. A Silver Mirror fender with a metal-like appearance also is available.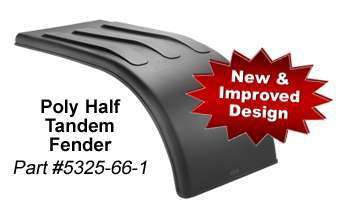 Fleetline's half-tandem poly fender, part number 5325-66-1, has been redesigned for enhanced performance and longevity. A reinforced edge helps improve stability, while a reduced rib length eliminates the need for spacers on the rear mounting bracket to help simplify installation.
EkoStinger's two-part active aerodynamic mileage enhancement system consists of an undercarriage arrow unit, which moves in conjunction with the rear wheel tandem, and an undercarriage crossmember cover designed to enhance airflow while adding to the trailer's protection and increased life expectancy.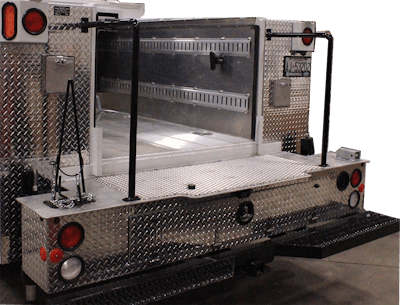 Pride Bodies, a supplier of service bodies used in the construction, municipal and service industries, offers an aluminum mechanics bumper that weighs up to 200 pounds less than similar steel offerings, providing a material designed to withstand salt and liquid calcium chloride while helping to reduce fuel costs and overall weight to allow for accessories such as service cranes, air compressors and welders.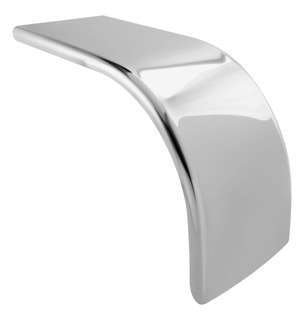 Hogebuilt's Ultimate Low Rider half-tandem fender has a three-inch flange produced with 14-gauge stainless steel and a 35½-inch drop and is available in premium 304 mirror-finish and mid-grade 430 mirror-shine stainless steel. The company's mid-grade full tandem fenders have a three-inch flange produced in 14-gauge 430 bright anneal stainless steel and a mirror shine and are available in both regular and low-rider versions.

SmartTruck's TopKit system consists of an Aero Rain Guard component that runs along the trailer's top-rear edge and features two side fairing components on the side-rear edges. The system is about one inch thick, weighs 72 pounds and is engineered to provide a SmartWay-verified 5.5 percent highway fuel savings. The standalone system is designed for dry vans, refrigerated units and trailers equipped with either swing or roll-up doors and does not require driver involvement or have moving parts. The solution also helps eliminate increased heating of tires and brakes while reducing damage from dock or intermodal operations.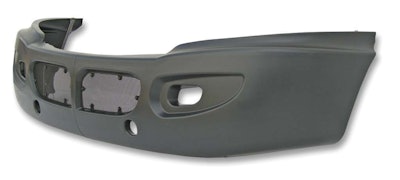 Hendrickson Bumper and Trim's durable corrosion-resistant Aero Clad bumpers for the International ProStar in both tilt-mount and fixed-mount configurations are designed to retrofit all model-year trucks and are built to offer nearly 4 inches of additional ground clearance and to be lighter than the standard plastic bumper with a chrome overlay. The company's Aero Clad Coronado SD bumper offers a bright mirrored finish that promotes better corrosion resistance and a weight savings of more than 150 pounds.
ATDynamics' TrailerTail Trident 3×3 is a three-sided 3-foot-long aerodynamic device designed to reduce semi-trailer suction drag and provide about 90 percent of the fuel savings benefit of the company's longer 4×4 version, which has an additional lower panel section. The EasyLatch system is designed to allow drivers to deploy and collapse the device with no interaction. The company's EasyInstall hardware system is designed to allow for 30-minute installation on a dry van trailer.