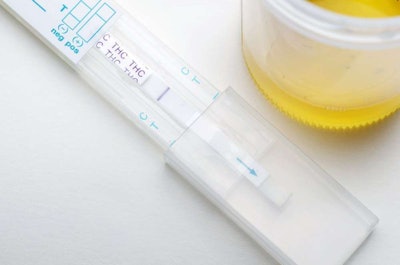 The National Transportation Safety Board sent two recommendations to the Federal Motor Carrier Safety Administration regarding the use of synthetic cannabinoids and related substances among commercial motor vehicle drivers.
These recommendations follow the investigation of a crash in which the driver of a tractor-tractor in Oklahoma struck a bus, killing four individuals and seriously injuring five others, after losing control of the truck while likely under the use of synthetic marijuana, according to a NTSB news release.
The NTSB calls for the FMCSA to determine how prevalent the use of impairing substances, especially synthetic marijuana, is among CMV drivers. The NTSB wants FMCSA to draft a plan to reduce the use of these substances.
In its second recommendation, the NTSB wants the FMCSA to work with trucking industry stakeholders to create a plan for helping carriers address their drivers' use of impairing substances, including substances that are not covered under current drug-testing guidelines.
While federal law states that CMV drivers are prohibited from operating a vehicle while impaired, current federal regulations require testing for only a few impairing substances, the NTSB stated.
"Motor carriers need to know about this emerging class of drugs, and they need better tools to detect driver impairment," said NTSB Chairman Christopher Hart.
The NTSB also issued recommendations for the American Trucking Associations, Commercial Vehicle Safety Alliance and the Owner Operator Independent Drivers Association, among others. They call for ATA, CVSA and OOIDA to educate their members about the dangers associated with driver use of synthetic drugs and work on ways to prevent drivers from using them.