Today's LED lights offer clear advantages for truckers when driving, parked or under the hood. Finely tuned light-emitting chips provide enhanced colors, enhancing visibility. Although LED lights cost more, the return on investment is greater due to longer lifespan.
In addition, they remain almost as bright at the end of their service lives as at the beginning while drawing less energy. In the cab, that means more amperage to recharge batteries or run auxiliary systems.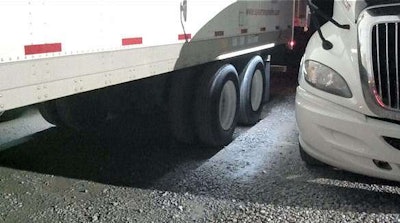 Kiser's Safety Lighting System tandem and backup LED lights come in various lengths and types and are operated by a control box made of a waterproof hard plastic. The tandem lights are designed for easy installation on the sides of both standard van and reefer 53-foot trailers. The backup lights mount on the back of the trailer facing down to provide additional lighting while the emergency flashers are on.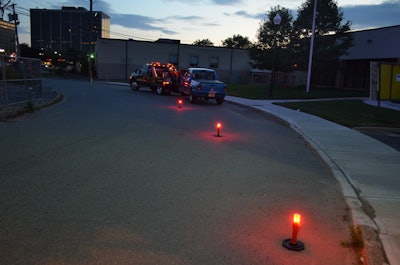 Emergi-Safe's 2020 combines the functions of a high-power warning beacon, flashlight and work light into one product to complement reflective triangles and provide an alternative to incendiary strike flares. The light is 12 inches tall and features a module with 16 high-intensity wide-angle dual-color (red and white) LEDs designed to provide 360 degrees of high-powered warning.

Optronics' HD 500 Series LED stop, tail and turn lamps have a raised linear focal point in the center for a three-dimensional look. Both the 4-inch round and 6-inch oval models are engineered with an 18-diode configuration that produces a light pattern and bright perimeter of LEDs surrounding a convex central feature with a contrasting illumination pattern.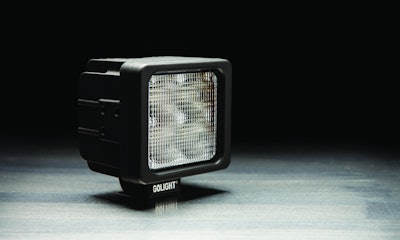 Golight's GXL 4021 fixed-position LED work light has a fascia that measures 4.5 inches wide by 4 inches tall with a 3.5-inch depth. The permanently mounted, manually adjustable light has a hardened aluminum housing and four clusters of four high-powered LEDs controlled through three rugged polycarbonate lenses to generate a maximum output of 4,500 lumens.
Truck-Lite's 4-by-6-inch (165 mm) rectangular LED headlight system has a multi-volt design (9-33V) and is a drop-in replacement for most 1A1 and 2A1 sealed beams. The lightweight system is the follow-up to the company's 7-inch round and 5-by-7-inch headlight systems and is designed for an optimal beam pattern with improved width and longer reach.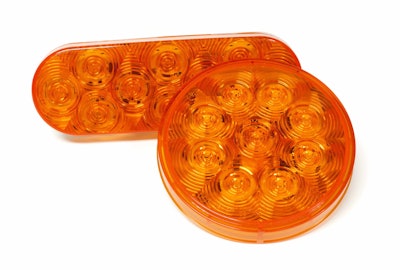 Peterson's LumenX LED line now includes 4-inch Round Strobe and 6-inch Oval Strobe lights. Both models offer 12- and 24-volt compatibility and are rated for use as directional flashing warning devices. The lights feature white-diode LEDs and the company's proprietary lens design that illuminates the entire lens fully and evenly without hotspots or dead zones, regardless of viewing angle.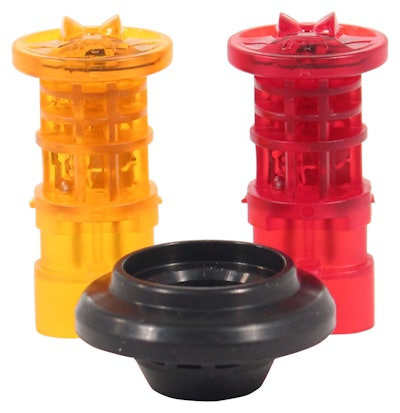 Phillips' Permalite XT round marker/clearance LED lights are designed for improved light dispersal for vehicles more than 80 inches wide. The lights are manufactured with the company's Boardfree technology, an in-mold process that uses a single LED sealed in a compact acrylic housing that helps protect against damage from moisture intrusion, harsh chemicals and ultraviolet exposure.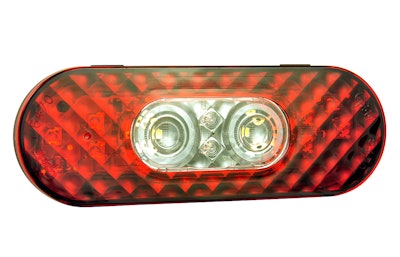 Grote's LED 6-inch oval and 4-inch round Stop/Tail/Turn lamps both are equipped with an integral LED built-in backup lamp designed to combine dual functions with longer-life LED technology. Combining S/T/T and backup functions allows elimination of two holes and two lamps at the vehicle's rear, as well as elimination of separate backup lamps on HD power modules.
Ecco's ED3706 Series SAE Class I Directional LED has an ultra-thin low-profile design and is available in solid and split colors. The LED is designed for maximum light output at all angles for a variety of applications. Mounting options include surface mount, adhesive mount, edge mount and permanent.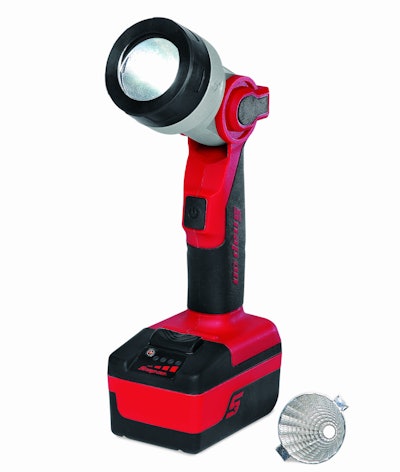 Finally, Snap-on's 18-volt LED work light offers a flood or spot option and runs for 12 hours, providing 300 lumens for a super-bright output. The light has a 120-degree rotating lightweight aluminum head, an impact-modified nylon housing and a low-battery indicator.