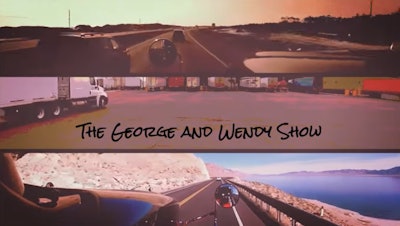 A long time ago, in a galaxy known as Fairborn, Wendy worked as a nail tech in a small salon. She had a client named Carolyn, who had a good-looking son named George, who happened to visit one weekend and have his hair cut by Robin, who was and still is the Mistress of All Things Hair. Wendy happened to be forward enough to ask Carolyn to get her a date with the good-looking son, and Carolyn was crazy enough to oblige. Here's a snippet of the first conversation between George and Wendy:
George: "I'd like to go out tonight, but the starter is out on my car. You wouldn't know how to pop a clutch, would ya?"
Wendy: "Of course I know how to pop a clutch. Pick me up at 7."
And he picked her up at 7, and luckily, she really did know how to pop a clutch. And they lived happily ever after, until they bought a truck.
I'm totally kidding – we were never happy until we bought a truck.
OK, that's a complete lie, but we're still happy, 20 years later, even with a truck. And just as a side note for those who think learning to drive a manual transmission isn't necessary – George swears he fell in love with me when I jammed that clutch and started the Escort on the first pop, so he didn't have to push very far. I'm not saying it will find you the love of your life, but I am saying it's been a life skill I'm glad my daddy made me learn before he ever let me drive anything, manual or otherwise.
Here's the 2015 wrap-up. It's the 20th year of our marriage, and it's been a blast. Thanks for following along.
[youtube 13E9spQNXIA nolink]