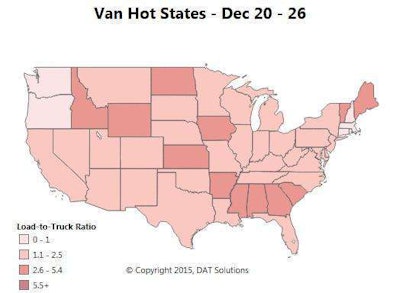 Van load posts on DAT load boards slowed by 22 percent, and truck posts declined 33 percent, during the Christmas holiday week, DAT says. A 20 percent decline in load board activity overall can be attributed to the short week.
Last-minute demand and severe weather also contributed to an increase in the load-to-truck ratio, from 1.6 to 1.9 loads per truck. Loads were readily available, and trucks are relatively scarce, in a handful of Hot Markets, including Twin Falls, Idaho; Bismarck, N.D.; Des Moines, Iowa, and Rock Island, Ill.; Hutchinson, Kan., and Kansas City and Joplin, Mo.; Memphis, Tenn.; Columbia, S.C.; and pretty much all of Alabama.
A shortage of trucks yielded high load-to-truck ratios that also turned the map red in Wyoming, Mississippi, New Hampshire and Maine, despite lower freight volume.