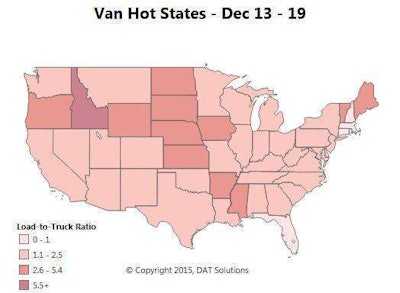 Van load availability slipped 5 percent last week ahead of the holiday and truck capacity edged up 1 percent, pushing the average load-to-truck ratio down from 1.7 to 1.6 loads per truck since the last update. More loads moved in the top 90 high-volume lanes, but there were plenty of trucks, too, so anemic increases in volume on those lanes did not lead a rate increase. In fact, rates fell a cent nationally to $1.71 per mile.
Loads are readily available, and trucks are relatively scarce, in a handful of hot markets, including Spokane, Wash.; Twin Falls, Idaho; Fargo, N.D.; Sioux Falls, S.D.; Des Moines, Iowa; Rock Island, Ill.; Hutchinson, Kan.; Joplin, Mo.; Lubbock and El Paso, Texas; Memphis, Tenn.; and Decatur, Ala.
Heading into this holiday week, a relative shortage of trucks in Mississippi, New Hampshire and Maine yielded high load-to-truck ratios, despite lower freight volume.