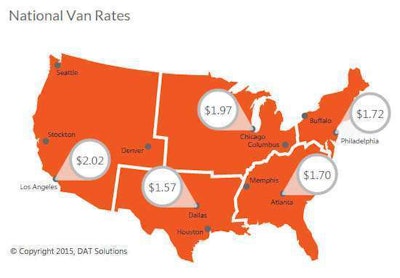 "What goes up must come down," says DAT's Ken Harper, who notes that laws of gravity as a general rule might well be applied to "to truck loads and rates on the spot market," particularly as seen this past week on the company's load boards. Van load availability returned to mid-November levels with a steep 25 percent decline in load posts, reversing the post-Thanksgiving gain in spot market freight. The national average load-to-truck ratio in turn plummeted from 2.8 to 1.7 loads per truck.
Rates followed the fall, with the national average van rate losing 5 cents per mile last week, including a 1-cent dip in the average fuel surcharge. Though a handful of lanes wound up in the plus column, including the 330-mile lane from Columbus to Buffalo, up 16 cents on average to $2.85 per mile, other lanes were way down. The worst lane rates last week were from Denver to L.A., at 97 cents per mile on average, and Lakeland, Fla., to Atlanta, at 95 cents. Fuggedaboutit.
Outbound rates remain fairly strong out of L.A. as a general rule with $2.02 average, and there's plenty of freight. The demand indicator that is the load-to-truck ratio, however, has been discouraging with recent declines. If you have a van in L.A., you are sure to find a load to Denver. The problem is getting out of the Mile High City without losing your shirt, of course. The "buck-a-mile backhaul" has been something of a norm of late, as noted above — pick one of those and you'll come away with $1.64 as a round-trip average.
On the other hand, the total is about $3,300 for at least 4 days of driving. You can do better. Stay out of Denver if you can.
If you absolutely must go there, take the long way home. Denver to Albuquerque is a "head-haul" lane, and you can make some money there. There is not much freight from Albuquerque back to L.A., however, so you may need to take an extra load to elsewhere on the way home. Las Vegas can work. After that, it's a short hop on a popular lane from Vegas to L.A. This whole trip will likely take you five days, but you'll end up with an additional $1,100, for a total of $4,450. That's almost $900 per day, much better than the straight roundtrip.
Examine details — all rates based on last week's spot market averages in DAT RateView — below.