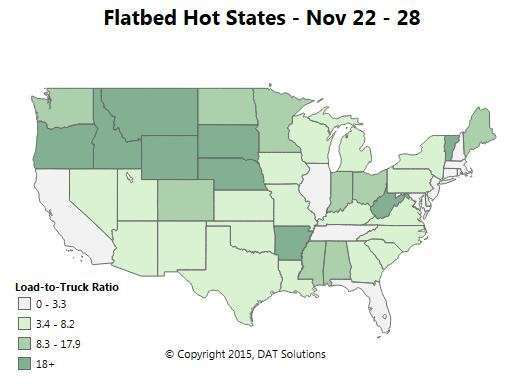 Flatbed load availability declined 24 percent last week on the spot market as DAT load board activity paused to a certain extent for Thanksgiving. The load-to-truck ratio rose 11 percent accordingly to 6.4 loads per truck, though that's down from 8.5 in the last update on the segment a month ago.
Hot Markets for the week included Medford, Ore.; Rapid City, S.D.; Omaha, Neb.; Little Rock, Ark.; Shreveport, La.; and Montgomery, Ala. Columbus and Cleveland in Ohio also offered plenty of loads. A shortage of trucks led to high load-to-truck ratios that turned entire states dark green in Idaho, Montana and Wyoming, but there were not enough loads in those areas to justify a trip.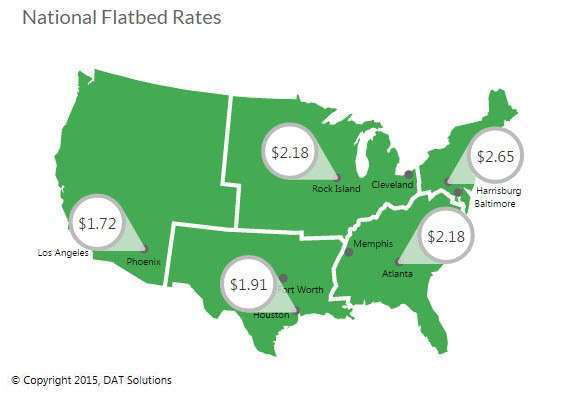 There is not a large amount of flatbed freight to be had in many areas, but as mentioned above, parts of Alabama offer opportunity. Loads from Mobile, Ala., to Roanoke, Va., showed average rates recently well above the national average for flatbed freight. The pickings are quite slim on the lane all the way back, but if time allows, consider breaking up the return with two loads — one to Chattanooga for a reload back to Mobile, the last leg priced on average last week at $2.30 per mile, according to averages in DAT RateView.
You bypass both Atlanta and Charlotte, with only six extra miles of driving, if you took that route to Roanoke to begin with. You'll come away with almost $400 more in revenue in your pocket with that second load, with no additional driving. Examine the details below.