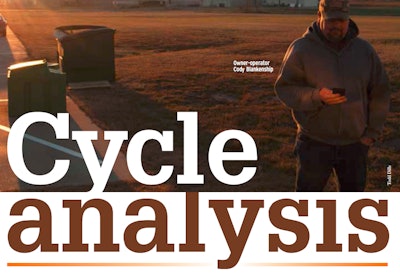 Last year was a great one for owner-operators looking for leverage with brokers over rates on the spot market. The early part of the year saw a severe winter further impact truck availability that already was tight due to a truckload capacity crunch. This pushed more freight to third-party logistics companies and brokers. It also set the stage for a rise in van, flatbed and reefer rates of a magnitude not seen for some time, according to data from Truckstop.com, formerly Internet Truckstop.
The upward pressure on rates, with improved freight availability in general terms in most segments as well, provided independent flatbedder Joe Bielucki his "best year ever" for income – and that's spanning a career of 26 years that included some prosperous times. Mostly running direct shipper freight in the Northeast, one of the toughest regions for outbound freight for over-the-road operations, Bielucki and his good year show that favorable conditions weren't confined to the spot market.
"As cliché as it may sound," says Scott Moscrip, Truckstop.com president and chief executive officer, there has been "no better time to be an independent trucker than today." Moscrip tells the story of a friend who, after driving for a company, went independent and now "drives two weeks a month and makes more than he did" as a full-time company driver. "It's just a matter of being careful and making sure that you're running your business as a business and not just as a way to keep yourself busy."
The rate impact of some aspects of timing and location shifts yearly because of varied factors. Yet the impact can be more predictable, based on time of day, day of the week, quarter of the year or seasons.
"The spot market is … a really bizarre organism – it's different at every time of every day," Moscrip says. In every place, too. "It's really challenging to put patterns on it to make generalized assumptions. It depends on so many other factors – rates move in radical fashion, because supply and demand will move radically," such as during local extreme weather events.
For this report, Truckstop.com and Overdrive have analyzed Truckstop.com data to identify patterns from last year – a strong one for freight, and continuing this year in some ways – that could help owner-operators looking to make the best use of their negotiating power. The evolving patterns also show, if nothing else, that spot market demand doesn't always revolve around the weekend.
On which day should you negotiate and book the load for the best rate?
As indicated by March polling, a majority of owner-operators see Thursday and Friday as the strongest days for rates, whatever the segment. "Typically we always think [brokers are] going to have to pay a little bit more" on Friday, says Truckstop.com's Roxanne Bullard.
TFI Logistics broker Dan Metully, based in Montana, believes "Friday is always the best day for trucks to get good rates. When someone is up against the wall from a customer service standpoint, the carrier's position naturally improves."
While the pressure to get loads on the road by the end of the week generally does produce increasing demand, Truckstop.com's 2014 data shows several variations from that accepted wisdom.
Truckstop.com's "posted rates" dataset comprises broker offer rates and rates reported to the company by some carrier partners. It's more reflective of offered rates than anything else, Moscrip says.
As an load board user knows, many if not most loads are posted without any offer as brokers test the market. "Very rarely does freight move at offered rates," he says.
Truckstop.com's "paid rates" dataset is made up of a much broader mix of data sources than the posted rates: verified carrier rates collected from factoring companies, partner companies' transportation management software systems and other sources. It represents a smaller sample size of loads than the posted rates set, and not necessarily the same loads.
Because the rate sets differ, paid rate averages at times are lower than offered rate averages. The average spread on reefer rates was negative for every day of the week during 2012 and 2013. However, spreads were positive – or in rare cases, flat – throughout 2014 for dry van, reefer and flatbed, representing that year's generally stronger positions for many carriers.
Looking at paid rates by the day of the week the load was negotiated successfully and pulled from the Truckstop.com load board, rates averaged higher toward the beginning of the workweek in all segments last year.
The highest-rate weekday (Monday-Friday) for van in 2014 was midweek, Wednesday, at an average $2.38 per mile. For flatbed it was Monday, the day with the highest volume of posting activity on the board, says Bullard, at $2.42 per mile. Reefer, as with van, was centered midweek, a time when brokers may be feeling the pressure on unbooked loads posted early in the week. Midweek, however, they may not be motivated enough to modify the posting with a higher rate offer to entice carriers they haven't contacted yet.
Examining the difference between the average offer rate and the average paid rate by day of the week shows that the biggest positive difference for 2014 was seen on Wednesday and Thursday for van, the latter likewise for reefer. The highest percentage spread for flatbed was for loads negotiated Monday, also the highest rate weekday.
Such analyses exclude, however, days when the phones at brokerages slow down considerably: Saturday and Sunday. If he can, "I'll be the 911 service" on the weekends, says dry van owner-operator Chad Boblett, based in Kentucky, a top 10 state for outbound van freight rates. "Weekends and after-hours, if I can make myself available to go and work during those hours, I'll post my truck, and I might be the only one in the area that's posted a truck" to the board.
Boblett, also the proprietor of the Rate Per Mile Masters Facebook group for rate discussion, notes that the broker won't always call. But when they do, he's likely to make bank. On the weekend, dry van paid rates are much higher than posted rate averages – on the order of 20 (Saturday) and almost 30 (Sunday) cents a mile higher. The same is true to varying degrees for reefer and flatbed.
"You can always get a good rate on the weekend freight," says Texas-based independent Cody Blankenship, who pulls a reefer behind his Kenworth W900 when he's not working the green bean or black-eyed pea harvest with a hopper bottom. "A lot of guys are just not trucking on the weekend anymore. Truck stops are kind of empty. There aren't a lot of trucks on the road, particularly on Sunday. It used to be the day to head out and take off, but the regional operations seem to be running through the week primarily. I have some brokers that call me looking to load me on Saturday.
"I like to run on the weekends, even Sunday if I can. Less trucks, less DOT." The scales in Colorado that Blankenship passed on a few recent runs to Idaho and back to Texas were closed over the weekend.
Boblett says if he knows the load-to-truck ratio in an area is high, with a lack of available operators, "the broker's offer rate doesn't matter anymore. If everybody's turned you down at that rate, getting closer to 3 o'clock, now you're looking at being able to pay somebody above and beyond."
It pays to have made a higher offer early in the day, given "the carriers that quoted those loads at the beginning of the day, they'll get the first phone calls from those brokers" in the critical 3-4 p.m. time period, Boblett says.
Moscrip says rates have a stronger relationship to time of day than to day of the week. Truckstop.com's new chat-negotiation feature provides data on what days and what time of day that "negotiations are most aggressive," he says. Data available now shows that "any carrier's best negotiating strength is near the end of the day" on a load that has spent time on the board.
Chat negotiations are available now in the Web application and coming in mobile, noted Thayne Boren, Truckstop.com mobile general manager, in a briefing with Overdrive at the Mid-America Trucking Show in March.
When you do snag that late-day load, says Boblett, "be ready to lock and load. You'll probably have a shipper waiting on you. The 3 o'clock hustle, I play that game so much. I like driving at nighttime when I'm on the road. To me, it's so much more peaceful. I like to get offloaded first thing in the morning, then go somewhere I can get some sleep. I'll sleep during the day and make sure I get up before 3 o'clock and post my truck so I can get my next load like that."
More in the following installments:
End of the quarter
Geography