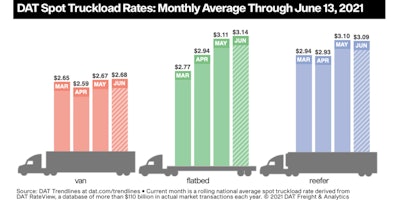 Spot truckload volumes rose 13% last week as freight activity returned to more typical levels following a holiday-shortened workweek, according to DAT Freight & Analytics, operator of the DAT load board network and analytics service. The number of trucks posted to the DAT network increased by a larger degree in the same week, 15% compared to the previous week, which included Memorial Day.
National average spot rates were virtually unchanged. While it's not unusual for spot rates to dip after the push leading up to Memorial Day and then take off again as retailers, grocers and food shippers gear up for July 4, spot truckload prices have been generally stable in recent weeks. Dry van and reefer rates have been within a 5-cent-per-mile band since the second week of May and flatbed rates have moved just a penny in the same timeframe.
This cooling trend on the spot market is not surprising given the strength of contract rates and overall easing of load-posting activity. Load volume for the week ending June 13 was 8% lower than the week prior to Memorial Day and is down 30% month over month.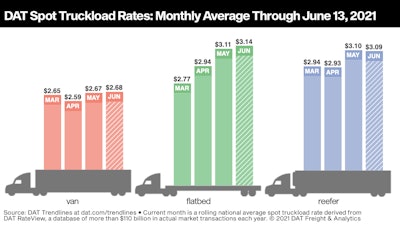 "As the economy continues to open, the supply side of the truckload sector is taking much longer to catch up to surging demand," said DAT industry analyst Dean Croke, summarizing the overall situation. "This flattening of available capacity is brought on by a combination of a fourth wave of stimulus checks; labor shortages due to alternative employment opportunities in more attractive industries; constrained truck and trailer production due to semiconductor chip shortages and other input materials; and reduced rates of graduates from driving schools and CDL-processing backlogs at state licensing offices."
Reefer: While the national average reefer load-to-truck ratio increased from 8.6 to 9.2 last week, reefer equipment posts are the highest they've been all year. The number of loads moved on DAT's top 72 reefer lanes by volume slipped 2.8% compared to the previous week; the average spot truckload rate fell on 30 of those 72 lanes, increased on 29 lanes and was neutral on 13 lanes.
Flatbed: The average flatbed load-to-truck ratio fell from 79.2 to 73.4 last week, down from the May average of 97.0. The number of loads moved on DAT's top 78 flatbed lanes was virtually unchanged compared to the previous week.
Van: The average van load-to-truck ratio declined for the third consecutive week, dropping from 4.8 to 4.5. The volume of loads moved on DAT's top 100 van lanes jumped 27.8% last week and was level with volumes moved during the latter two weeks of May. Next week's Amazon Prime Day will provide another boost in short-term demand for van capacity but not just for Amazon. All online retailers will have Black Friday-level deals in many sales categories.