Trucking news and briefs for Monday, June 14, 2021:
Mexican trucker barred from operating in U.S. after fatal crash, failed alcohol tests
The Federal Motor Carrier Safety Administration has effectively shut down Mexico-licensed truck driver Cecilio Eliut Camacho-Montoya and barred him from operating in the U.S. after a fatal crash on May 19.
FMCSA says Camacho-Montoya, who held an expired Mexical CDL, was driving a commercial truck on Highway 55 in Eagle, Idaho, when, according to witnesses, he failed to stop at a red light at the intersections of Highways 55 and 44. His truck then crashed into another vehicle, fatally injuring its driver.
Following the crash, Camacho-Montoya agreed to submit to, and subsequently failed, three Standardized Field Sobriety Tests administered at the scene by the Idaho State Police. He then agreed at the crash scene to two breathalyzer tests. The first test sample showed a breath alcohol content (BrAC) of 0.222; the second, 0.214. Approximately four hours after the crash, at the Ada County Jail, Camacho-Montoya tested at 0.080, with a fourth showing at 0.078.
Possessing an alcohol concentration of greater than 0.04 while operating a commercial vehicle weighing more than 26,001 pounds and requiring a CDL is a violation of federal safety regulations.
The State of Idaho has charged Camacho-Montoya with felony aggravated driving under the influence and felony vehicle manslaughter.
A subsequent investigation by FMCSA personnel found that Camacho-Montoya, in the days leading up to the crash, on multiple occasions, had falsified his records-of-duty-status and had exceeded the allowable on-duty driving hours permitted by federal regulations.
[Related: The toughest states for hours of service violations]
Recalls issued for certain Volvo, Mack, Paccar trucks
Three truck OEMs issued recalls recently affecting nearly 2,000 trucks of various makes and models, according to National Highway Traffic Safety Administration documents.
The largest of the three recalls was issued by Volvo Trucks North America for an issue with the hubcaps on certain trucks. The recall affects approximately 1,050 model year 2021-2022 Volvo VNL, VNR, VHD and VAH models. In the affected trucks, the hubcap compression spring can cause the hubcap to separate, which could create a road hazard.
Volvo is still developing a remedy, NHTSA documents say, but in the interim, Volvo dealers will remove the hubcap for free. Owners can contact Volvo Trucks customer service at 1-800-528-6586 with recall number RVXX-2102. NHTSA's recall number is 21V-417.
The hubcap recall also affects approximately 307 model year 2021-2022 Mack Anthem, Granite and Pinnacle trucks. Owners can contact Mack customer service at 1-800-866-1177 with recall number SC0425. NHTSA's recall number is 21V-416.
A recall from Paccar affects approximately 612 model year 2018-2021 Peterbilt 337, 348, 365, 367, 520 and 567 models and Kenworth T270, T370, T440, T470, T800 and T880 trucks. In the affected trucks, the sealing washer may not seat correctly in the pilot bore holes, allowing the high-pressure fuel rail assembly to leak, which could spark a fire.
Dealers will inspect the rail threads and fuel lanes and replace the rail if necessary for free. Owners can contact Paccar customer service at 1-425-828-5888 (Kenworth) with recall number 21KWC or 1-940-591-4220 (Peterbilt) with recall number 21PBD. NHTSA's recall number is 21V-391.
[Related: Practicing the fine art of exorcising 'aftertreatment demons']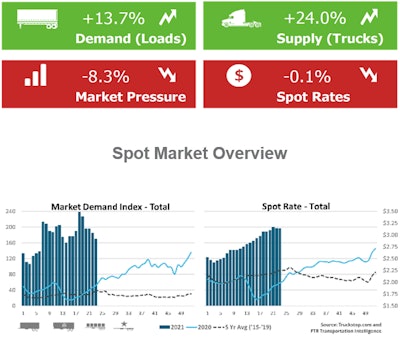 Arkansas DOT working to ease congestion on I-55
The Arkansas Department of Transportation is working with the city of West Memphis to ease the flow of traffic across the Interstate 55 bridge over the Mississippi River.
The bridge has seen increased traffic since the I-40 bridge over the river was shut down after a crack was found in a steel beam in May. Traffic has been diverted onto the I-55 bridge as an alternate route to cross the river.
As of last Wednesday, June 9, the following traffic pattern changes are in effect:
I-55 southbound reduced to a single outside lane just before the western I-40/I-55 interchange
I-40 eastbound already narrows to a single lane at the I-40/I-55 Interchange. Exit Ramps at 7th Street and Ingram Blvd. will be closed to I-40 traffic.
I-40 traffic will continue in the inside lane and I-55 traffic will continue in the outside lane through Ingram Blvd. The middle lane will be closed to separate eastbound traffic between the western and eastern I-40/I-55 Interchanges.
East of Ingram Blvd. eastbound traffic will transition into two adjacent lanes
The I-40/I-55 on-ramp at Ingram Blvd. will be closed
The plan is to reduce merging points which is anticipated to reduce conflicts and improve traffic flow.
Traffic will be controlled by traffic barrels and signage. The latest updates on the I-40 bridge closure can be found here.