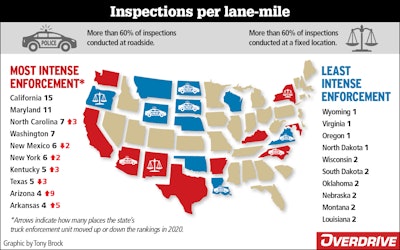 Just two states posted increases in the overall number of truck inspections in 2020, according to federal data analyzed by Overdrive and sister data company RigDig. Both were relatively low-inspection-intensity states: Alabama (No. 22) and Rhode Island (No. 34), with 5% gains.
Declines ranged from as little as 1% in Minnesota (No. 31) to more than 36% in relatively high-inspection-intensity states like Maryland and Indiana. That was enough to bump Indiana from the top-ranking departments for inspection intensity, shown in the map above. It dropped 3 inspections per lane-mile of National Highway System roadway in its borders.
Last year's accounting, based on 2019 data, showed Indiana ranking No. 7 on the list with 7 inspections per lane-mile.
This year, Indiana fell all the way to No. 14. California and Maryland, even with pronounced declines, held onto their top spots in the annual rankings, which show the relative distribution of inspection activity. Higher-ranked states, generally speaking, show a greater likelihood of inspecting a truck in normal times. That's no less true in Spring and Summer when inspection-blitz season begins to heat up with the annual Roadcheck event, typically the first.
States approach Roadcheck in various ways, perhaps most commonly with an all-hands-on-deck approach at fixed weigh stations. In Alabama, Captain Brent McElwaine emphasized the unique nature of the enforcement effort there with just a single fixed site on I-20 in Heflin, Alabama. "Virtual weigh stations," since 2013-'14, are in an expansion phase in Alabama, with two sites in place now equipped with weigh-in-motion and/or other technologies (such as tire-anomaly sensors) to better prioritize inspections of trucks and carriers troopers believe probably need it, for instance. Resulting inspections occur at roadside.
McElwaine said Alabama more or less operates as normal during Roadcheck. "We're not going to pick everybody up and take them" to the weigh station in Heflin, nor will there be a large increase in inspection activity, he said. There may well be, though, an increase in "what we focus on."
This year's emphasis on lights and hours of service made even a business-as-usual approach in the state appropriate. Alabama ranks third in the nation for the priority it places on lights violations, with almost one in every four violations written for lights.
In Florida and Texas, Nos. 1 and 2 above Alabama in the lights violations category, plans around Roadcheck were a little more focused on boosting activity all around.
Florida's 24-hour staffing at its numerous DOT-operated scales are provided at least in part by Florida Highway Patrol troopers, according to Chief Jeffrey Dixon of the FHP Commercial Vehicle Enforcement office. Biggest focus when it comes to inspections? The Level 1, he said, covering the vehicle and the driver.
Roadcheck this year also sees FMCSA inspectors working in Florida's inspection barns. The state sits just outside of the top 10 for inspection intensity with this year's update, at No. 12, but not so Texas.
Ranking No. 8 for inspections per lane-mile conducted in 2020, Texas, according to Lieutenant Eric Gray of the highway patrol, planned to be "stepping up its enforcement efforts during this time. The purpose of announcing the dates and increased patrol efforts in advance of the operation is to remind motor carriers and drivers of the importance of vehicle maintenance and driver readiness."
Gray, as did McElvaine in Alabama, emphasized a back-to-basics approach for operators, with thorough pre-trip inspections the best way to prevent violations. Gray referenced 49 Code of Federal Regulations 392.7, which lists "items that shall be in good working order prior to a CMV being driven." Keep that list handy, he advised.
Lights and reflectors, of course, are on that list. Operators should get in the habit of inspecting lights "any time they are out of the truck and the lights are on," Gray said. If you're required to do an initial (after 50 miles) and then regular securement checks, "activating the lights on the vehicle during this check ... can increase the chances of the driver finding and correcting lighting violations."
[Related: Roadcheck inspections: To avoid or not to avoid (or both)]
Lights out are no doubt low-hanging fruit for inspectors, as McElvaine emphasized. "What is the largest quantity of equipment on a truck?" the captain asked, pointing to lights as being among "the easiest thing to spot," too. "They're violations we look for and we see."
Hours violations take a little more doing. Last year overall violations continued their downward trend of recent years since the electronic logging device mandate in terms of volume, but not as a percent of total violations. Given the COVID-inspired enforcement reductions last year sent all violation volumes crashing, the percentage rise for hours of service violations is probably the most meaningful figure.
The national average ticked up from 7.3% to 8.3%. More than half of all states are well above that figure, though, the following 15 being the most log-inspection-happy of the bunch.
Navigate the complexities of the September-implemented hours of service changes via this link to our Q&A with FMCSA enforcement chief Joe DeLorenzo via this link.
Access a variety of ELD- and hours-related inspection tips in this story from last year just ahead of the rescheduled Roadcheck event in September.