Compliance consultant Andy Blair, based in Pennsylvania, sent along a list of out of service violations related to lighting equipment and the hours of service yesterday -- with a mind toward helping haulers of all stripes keep aware particularly of the biggest risks when it comes to violations within the two main focus areas of this week's Roadcheck event, which started today and runs through Thursday, May 6. "I keep up with 49 CFR," or the Code of Federal Regulations, where trucking requirements are found, he said, "and the out-of-service criteria, and still do Level 1 DOT inspections."
Blair, of DOT Safety Checkups LLC, is a retired officer, and does these inspections for private industry.
"There are a lot of misconceptions regarding what a violation is," he added, "but mostly what is and isn't an out-of-service violation," particularly given the latter can only be found in the CVSA-published North American Standard Out of Service Criteria handbook. Here's a quick refresher for those who need it:
[Related: Possible Roadcheck hotspots: States where hours and lights violations' intensity overlaps with inspection likelihood]
Lights
Out-of-service conditions for headlights and steady-burning taillights (on trucks and trailers) apply only when lights are required (at night, when it's raining, construction zones, etc.) and both lights in any pair aren't operable. The same applies to the rear, steady-burning red lamp required on a load projecting four feet or more, Blair said. Exceptions to the OOS criteria on headlights and taillights apply to most of you, though, given "in a combination, the towing vehicle's rear [steady-burning] lights," those on the tractor, "are not considered out of service."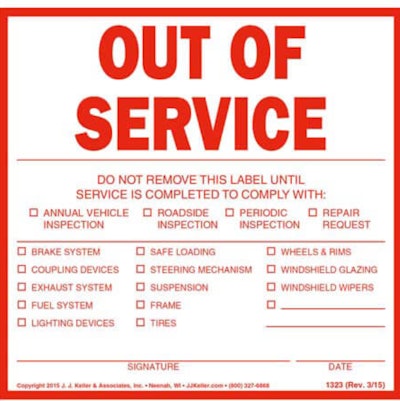 When it comes to turn signals and brake lights, OOS conditions can apply at any time, given what those lights are intended for. But the rear-most vehicle must have no brake lights working at all for it to be considered an OOS condition, said Blair. Talking to owner-operators he comes across in his business, it's common for Blair to ask, "If there was just one spare bulb you could carry in your truck, what it would it be?"
Most, he said, point to a headlight or a brake light, but a rear turn signal is the only single bulb that "can put you out of service," he said. "One brake light won't do it, one headlight won't do it." As with most of the above OOS conditions, in a combination that applies just to the rear-most vehicle, the trailer, and if you are shut down with trailer lights out, it's certainly kosher to uncouple and run bobtail to pick up replacement bulbs if you don't have them, Blair added, provided your tractor's lights aren't putting you OOS as well.
And "robbing Peter to pay Paul," so to speak, by moving an operative bulb to the inoperative location, for instance from a working rear turn signal position on the tractor to the inoperative location on the trailer, is not an option. "You can't create a violation to fix another," Blair said.
One notable exception to rear turn signal OOS conditions is when a truck/tractor is outfitted with front/corner-mounted turn signals that are visible from the rear. If a rear turn is out but those front/corner-mounted signals are working, you're not OOS.
Blair notes owner-ops should consider incentives to carry spare bulbs, given most officers he knows are likely not to put you out of service if you have the demonstrated ability to fix the problem on the spot. "If you have a spare bulb and you can immediately on-the-spot correct something, it's more than likely the officer will not write it as an out of service," given the amount of time required, he said. "There's a real reason to be ready for that kind of stuff."
Hours of service
Blair outlines six basic categories where violations can put a freight haulerdriver out of service. Though there are some exceptions, all of these violations can put you OOS:
Daily maximums: Driving more than 11 hours following 10 consecutive hours off.
14-hour rule, with a signficant exception in the new split sleeper: Driving beyond the 14th hour following 10 consecutive hours off.
Driving after cumulative duty limitations: Driving after being on duty more than 60 hours in seven days or 70 hours in eight days.
No logbook: No record of duty status when one is required.
Previous seven days: Failure to possess the previous seven consecutive days of records.
False log
While most of these are self-explanatory, some have provisions that are less known among drivers.
Blair notes that a driver exempt from e-logs but not current on a paper log going back more than two days can be considered as having no logbook and put out of service. "Today's May 4," he said this morning, "and your last entry is May 3. As long as you get it caught up I can't shut you down," taking the point of view of an officer. "If it goes back more than two days, though, then you're sunk. There's something to be said for e-logs taking care of that for you."
For drivers utilizing the 150 air-mile exception to the logbook requirement, Blair said to keep in mind that's "172 straight-line miles. I've gotten folks out of a lot of logbook tickets" for supposed violation of the logbook requirement on account of it. He also handles DataQs challenges, and can be reached via DOTinspector@gmail.com.
The last in the list, False Log, presents perhaps the most interpretive areas in the regs. That's particularly so when it's the result of what an officer sees as an incorrect use of personal conveyance, an off-duty status both on paper and in e-logs, where it's enabled with a special mode selection that prevents movement of the truck to put the log on the drive line. Given lack of any limitation on time/distance for PC use in the United States, correct/incorrect PC use can require a great deal of gray-area judgment calls. My colleague Tom Quimby at CCJ addressed some carriers' limitations on personal use of the truck for their drivers and/or owner-ops, and some of the different interpretations, in this recent story.
Key portion of the story: A CVSA rep noted the biggest issue carriers of all sizes are having is in misuse of personal conveyance:
"That is the biggest problem that I'm hearing from inspectors and logs that I see. And they're getting charged with falsification when they do that and put out of service."
Access our other reporting on PC use:
[Related: Hours changes and personal conveyance, coercion, rates]
[Related: Trucking Law: What works as personal conveyance?]
[Related: Notes on proper -- and improper -- use of personal conveyance under ELDs]
Access the "personal conveyance" search page here for more.
Tip of the day for prospective CDL holders: If you don't remove the wheel chocks before you do the air brake tug test, you'll fail your CDL exam, said Blair., who added he was "still having a good day" in spite of having to fail a student this morning ... Word to the wise.