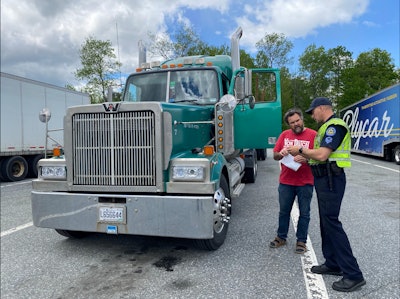 Alex Lockie for Overdrive
The Commercial Vehicle Safety Alliance has updated the out-of-service criteria for 2023; new criteria around drug use and records of duty status, among other changes, will take effect on April 1. The annually published OOS guide provides law enforcement and motor carriers with guidelines for promoting uniformity in compliance and enforcement throughout North America.
The CVSA has maintained, updated and published the guide for more than 30 years, and each year it gets some updates to improve clarity and standardize enforcement across the continent.
"We get comments all year from law enforcement, industry and manufacturers" on what constitutes an "imminent hazard," and should therefore place a driver and/or vehicle out of service, said Jeremy Disbrow, CVSA's Roadside Inspection Specialist.
This year, the big changes center around so-called "False Log" violation changes, printing records of duty status when an operator is using computer-assisted logs, and when drug use can place a driver out of service. The changes are "mostly in favor of the driver and less stringent" than prior criteria, said Disbrow. A handful of other changes simply update the grammar and phrasing of existing regs so they're more clear to enforcement and drivers.
Hours, logbook changes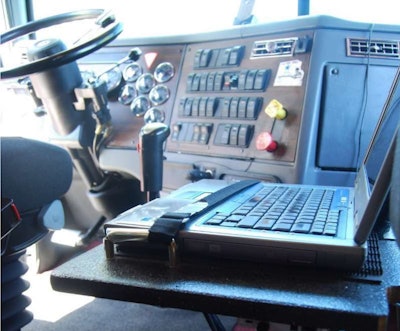 First up is a clarification to the OOS condition for a false record of duty status, or "false log."
"It used to be under the old version that any false entry in eight-day logbook, even if it was seven days ago, if they found it" would cause an OOS violation, said Disbrow. "But if a driver falsified their book six days ago, and then rested and took a restart, how are they an imminent hazard to public now?"
Disbrow, who has an enforcement background and plenty of inspections under his belt, said it's better to just be honest than to incur extra penalties with false logs.
Back when he was inspecting logs, Disbrow said "you'd see six days ago an 11-hour violation, and they'd hide it by falsifying the book. That was an automatic OOS once you falsified it. If they had just kept their 11-hour rule violation, it would still be a violation but not an OOS."
This all goes back to CVSA's purpose in writing these codes. The out of service criteria (OOSC) "Policy Statement directs inspectors to remove 'imminent hazards' from roadways and is not intended to be a punitive measure. The 'imminent hazard' exists when a driver is concealing a current hours-of-service limitation at the time of the inspection and should be placed out of service. Falsifications that occurred on previous dates, prior to a valid/confirmed qualifying rest period, do not pose an imminent hazard to the public and should not be placed out of service," the CVSA document reads.
As a result, CVSA's Driver/Traffic Enforcement Committee determined a false log "would only be an OOS if the falsification occurred after the last rest period and is being used to conceal either an 11-, 14-, 60- or 70-hour violation," said Disbrow.
Additionally, the new changes give operators leeway for not having printed and signed logs, an issue when an operator is exempt from electronic logging device use yet uses a computer-assisted log. This has been a murky issue since at least 2014, but now it's been put to bed.
"The current interpretation in the FMCSRs for CFR 395.8 indicates electronic [logs] that are not an ELD or AOBRD must be electronically signed or printed and manually signed. All documents required by CFR 390-399 can be electronic, rather than paper," the document reads. Drivers that are using electronic logs that are not an ELD or AOBRD are still required to electronically sign, or print and sign their logs each day. However, the "OOSC should not require a document to be printed to not to be placed OOS. If the hours of service of the driver can be reviewed on the electronic display, the driver should not be placed OOS for no [logs] as this does not constitute an imminent hazard."
[Related: Roadcheck 2023 in May to focus on ABS, load securement]
Drug use changes
The North American Standard OOSC, Part I, Item 7, "Drugs and other substances" has been amended to say the driver "Shall not be under the influence by adding language for use within the previous 24 hours."
Basically, even though drivers can get busted and placed OOS for failing a drug test, as well as face other penalties or repercussions, it's no longer an OOS violation to have been under the influence of drugs if it's more than a day ago.
"With drugs specifically, prohibited drugs under 392.4 of the Federal Register -- amphetamines, narcotics, certain prescription drugs not prescribed to that person, or prescription drugs that the doctor says you can't operate machinery with" -- the effective window for an OOS violation is 24 hours, said Disbrow.
[Related: Can truck drivers use CBD? All you need to know about cannabis, hemp, testing and the clearinghouse]
Take Disbrow's example of an unusually talkative driver being stopped: "If a driver used marijuana say five days ago and told the inspector that on the side of the road, under old the OOS criteria, that would have been an OOS violation because there was no real time frame."
Again, going back to the CVSA's policy statement, although drug use can be disastrous for a driver's career in so many ways, if someone smoked marijuana or did some other drug more than 24 hours ago, it doesn't meet the high bar of being an "imminent hazard" in and of itself. If the driver failed a field sobriety test, that would be another matter.
Of course, it's still an OOS violation to have any drugs in your possession, and any impairment still leads to an OOS violation.
"We don't want drivers thinking just because more than 24 hours have gone by, it's OK to drive" after drug use, said Disbrow. "It's still not OK, you're still going to be dinged on a drug and alcohol test, but we're strictly referring to the OOS criteria here."
Other items
The rest of the changes mostly clear up language in the regs to help guide drivers and inspectors. Ever heard that a load on a flatbed needs a tie down every 10 feet? Well, that's cleared up to mean "for" every 10 feet, not exactly on the 10-foot mark at each interval.
"There were a lot of industry requests asking where do tie-downs have to be placed," said Disbrow. "The regs are a little confusing, it says a tie down for every 10 feet, so some inspectors looked for them precisely every 10 feet, but you just need one for every 10 foot span."
So now it's clear that inspectors can't demand straps in exact spots, and only the "correct number" of straps for a given load can be enforced.
In the same vein, OOS violations around rust on disc brakes has been clarified to only target rust "across the entire rotor."
[Related: How brakes alone can put you out-of-service]
"Obviously rust on a disc brake or any brake means no contact with the pad, but we don't want to place drivers OOS if there's a light area of surface rust," said Disbrow. "If it's completely rusted and inoperative, that's still OOS, but light surface rust is not going to be placed OOS."
A handful of other changes populate the rest of the four-page document, and CVSA encourages operators to read it and get in touch with any questions. Doing so may be a driver's best bet in protecting themselves against needless violations or incorrect interpretations of the law.
"I think it's important for drivers to understand what's expected of them. I feel like enforcement can, for lack of a better word, blindside them sometimes," said Disbrow. "Drivers should know their rights and know what the laws are to be better prepared."