Trucking news and briefs for Monday, Feb. 27, 2023:
Former FMCSA Chief Counsel named Deputy Administrator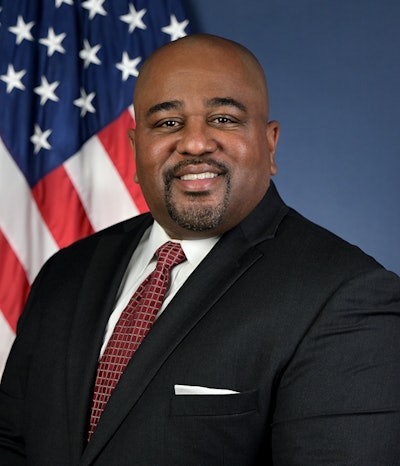 Earl Adams Jr. was sworn in Monday as Deputy Administrator of the Federal Motor Carrier Safety Administration. Adams has served as FMCSA's Chief Counsel since July 2021.
He takes over the role previously held by Robin Hutcheson, who was officially confirmed as FMCSA's Administrator on Sept. 22, 2022.
As Deputy Administrator, Adams will join Hutcheson to lead the agency and will oversee a portfolio of initiatives across the agency's various program offices that supports FMCSA's mission -- to prevent crashes, injuries, and fatalities involving large trucks and buses.
"Earl is a mission-driven leader and thinker who embodies the values of our agency and the entire Department of Transportation," Hutcheson said. "His vast experience, intellect and people skills are exactly what the role of Deputy Administrator calls for."
Adams has extensive legal and executive experience across several modes, including surface transportation, rail and aviation. In his role as FMCSA Chief Counsel, Adams was responsible for legal policy on all aspects of agency programs and activities, including the development, issuance, interpretation, enforcement and defense of the Federal Motor Carrier Safety Regulations before state and federal courts. He also provided executive oversight for FMCSA's technology and innovation portfolio, including rulemaking on autonomous vehicles.
Prior to joining FMCSA, Adams worked in the private sector with several law firms, and most recently as a litigation partner with a national law firm, where he also served as the managing partner of the firm's Washington, D.C. office. His legal practice focused on providing clients with regulatory and compliance counsel across several sectors, including transportation, renewable energy, and procurement.
Additionally, Adams served as Chief of Staff to Maryland's former Lt. Governor and has held several leadership positions in impactful organizations, including serving as the former Chairman of the Board of Directors for the Metropolitan Washington Airports Authority, former Vice Chairman of the Bowie State University Board of Visitors, and former board member of the Economic Club of Washington.
He earned his Juris Doctor degree from Boston College Law School, a Master of Public Administration from the Harvard Kennedy School, and a Bachelor of Arts in Psychology from Morehouse College.
[Related: FMCSA needs a 'cop on the block' fighting brokered-freight fraud]
J.B. Hunt driver named Goodyear Highway Hero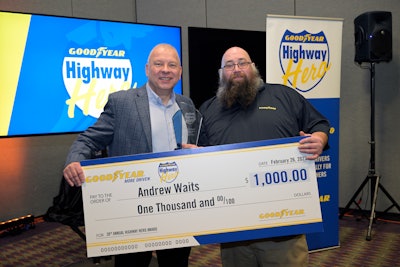 J.B. Hunt Transport driver Andrew Waits, of Tacoma, Washington, was named the 38th winner of the Goodyear Highway Hero Award at the 2023 Technology & Maintenance Council (TMC) Annual Meeting in Orlando, Florida, Sunday.
Waits, a military veteran and full-time truck driver, was celebrated for assisting a motorcyclist that had been struck by a car -- an accident that happened right in front of his daycab last August. The motorcyclist was thrown off his vehicle on a four-lane highway, and Waits positioned his tractor-trailer to shield the unconscious rider from oncoming traffic. Waits, also a volunteer firefighter, attended to the injured man until first responders could arrive.
"Choose the hard right over the easy wrong," Waits said of his decision to act, noting that the saying was something he learned and remembered from his days in JROTC. "You know you did something right when your father, who doesn't say it a lot, tells you he's proud of you."
Andrew is the first driver from J.B. Hunt to receive the award from Goodyear.
"He's just a kind, caring and genuine person," said Henrik Christensen, J.B. Hunt account manager and Waits' supervisor. Christensen noted that he was one of the first people that Waits called when the dust had settled at the crash scene, but he wasn't calling to tell Christensen what he'd done.
"The first thing he said was, 'Boss, I'm delayed. I'm sorry,'" Christensen said. "He just did what he thought was right because he could, and it needed to be done."
Waits was awarded $1,000 from Goodyear, a new television, a new set of Goodyear tires for his personal vehicle, and Goodyear-branded merchandise.
Two additional finalists for the honor were:
Barry Perkins, of Burlington, New Jersey, who encountered a life-threatening accident that involved numerous cars, including a vehicle that caught fire with a family trapped inside. He extinguished the fire and helped the driver and her children exit the vehicle and get safely off the road.
Robert Windsor, of Norman, Oklahoma, who encountered a vehicle that was pinned underneath a semi-truck and engulfed in flames. He used his fire extinguisher to neutralize the flames before rescuing a young girl from the pinned vehicle.
[Related: Michigan adjusts spring weigh restrictions | Latest Highway Angel]
Paccar recalling 8,000 medium-duty trucks over potential brakes failure
Paccar has issued a recall for 8,008 model year 2021-'24 Kenworth T280, T380 and T480, and Peterbilt 536, 537 and 548 medium-duty trucks because the brakes in the affected trucks could potentially fail.
According to National Highway Traffic Safety Administration documents, when the brake pedal in the affected trucks is fully applied and then released rapidly, the pedal plunger that connects the brake pedal to the brake valve may become disconnected, causing the brakes to fail.
A remedy is currently under development. Owner notification letters are expected to be mailed April 16. Owners can contact Kenworth's customer service at 1-425-828-588 with recall number 23KWB and Peterbilt's customer service at 1-940-591-4220 with recall number 23PBB. NHTSA's recall number is 23V-087.
TA launches new sit-down restaurant concept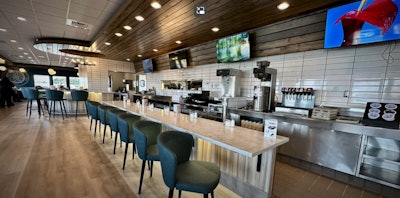 TravelCenters of America has opened its new proprietary restaurant brand Fork & Compass at the Petro Stopping Center in Perrysburg, Ohio. The traditional restaurant opened in January, and TA held a formal ribbon cutting last week.
TA said the Fork & Compass is open for breakfast, lunch, and dinner seven days a week. Its menu features appetizers and unique options, including a mac and cheese bar. Additionally, the menu highlights healthy options recommended by Cleveland Clinic, one of the world's most respected academic medical centers. TA and Cleveland Clinic recently announced a collaboration to support drivers' health and well-being by enhancing healthy food offerings and education opportunities at TA's full-service restaurants.
TA said the Fork & Compass concept was created to provide a reimagined experience for professional drivers, motorists and local residents. Designed to be a destination spot for the community, the restaurant has unique food options for all ages in a family-friendly atmosphere.
The new design layout fosters a relaxing environment with various seating options, including booths, counter seats, a large community table for family and friends to gather, or a more intimate setting for two near the "fireplace," the company said. Most seats have electrical outlets.