Trucking news and briefs for Friday, June 24, 2022:
Hutcheson clears another hurdle on path to FMCSA Administrator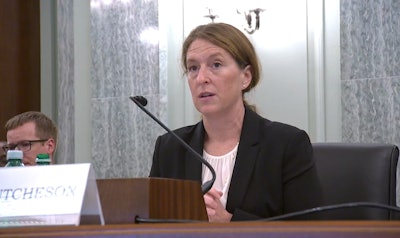 The Senate Commerce, Science and Transportation Committee on Wednesday recommended that the Federal Motor Carrier Safety Administration's current acting administrator Robin Hutcheson be passed to the Senate for full confirmation as the agency's full-time administrator.
Hutcheson went before the committee earlier this month, taking the first step toward potential confirmation as the agency's first full-time boss in almost three years. Transportation Secretary Pete Buttigieg appointed Hutcheson Deputy Administrator in late January following the departure of Meera Joshi.
As deputy administrator, Hutcheson also serves as the acting head, and President Biden nominated her for the role of administrator in April. FMCSA hasn't had a full-time administrator since Ray Martinez, who stepped down from the post in October 2019. The job has since been held by Jim Mullen, Wiley Deck, Joshi and Hutcheson, all acting roles.
Hutcheson has the support of all trucking's major stakeholder groups, including the American Trucking Associations, the Owner-Operator Independent Drivers Association, the Truckload Carriers Association and the Commercial Vehicle Safety Alliance, though her testimony raised questions about agency priorities at least one group, OOIDA, called out in the aftermath.
[Related: OOIDA hammers at FMCSA priorities about boss's Senate hearing remarks on 'driver shortage,' other moves]
Driver busted at border with $4M worth of meth
A truck driver entering the U.S. from Mexico was arrested last week when authorities found 310 pounds of suspected methamphetamine.
Border patrol agents say the drugs were worth some $4 million.
The meth was discovered on Friday, June 17, at the Pharr International Bridge in Pharr, Texas. The tractor-trailer was attempting to enter the U.S. from Mexico when it was given a secondary inspection and a screening by a K-9 team.
During the inspection, officers discovered a total of 1,200 packages of suspected drugs weighing 310 pounds. The drugs and truck were seized.
The case is still under investigation by the U.S. Immigration and Customs Enforcement-Homeland Security Investigations.
[Related: Driver held at gunpoint, cargo pilfered: How to avoid being an easy mark in dangerous times]
Citizen Driver award nomination period ends next week
The deadline to nominate a trucker you know -- or yourself -- for a major award draws near.
June 30 is the last day to make nominations for the Travel Centers of America annual Citizen Driver award contest, which seeks to recognize skilled and safe professional drivers who also exhibit good citizenship, is involved in their community, demonstrate leadership traits, and practice good health and wellness habits.
You can make a nomination online.
Ten finalists will each receive 10,000 UltraOne points from TA. Then, up to two grand prize winners will be chosen from that field and receive:
A marker with their name on it at or within a TA, TA Express or Petro Stopping Center dedicating that location to the winner
$5,000
A $2,500 donation to a charity of their choice
Winner's choice of either a $750 travel voucher to attend an award ceremony to be held on Oct. 20, at the National Association of Small Trucking Companies annual conference, or economy class airfare for the winner and one guest to attend the award ceremony
$250 for travel expenses to attend the awards ceremony
Hotel accommodations for the winner and a guest in the city where the awards ceremony is being held for two nights
Winners will also be honored at dedication ceremonies for the grand prize winner and up to 30 guests at the TA, TA Express or Petro Stopping Center dedicated in honor of the winner.
[Related: Small Fleet Champ, Round 1: Entries due by June 30]