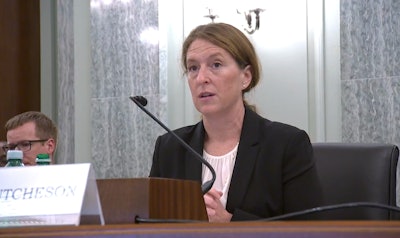 Federal Motor Carrier Safety Administration (FMCSA) Acting Administrator Robin Hutcheson went before the Senate Committee on Commerce, Science, and Transportation Wednesday, taking the first step toward potential confirmation as the agency's first full-time boss in almost three years.
Transportation Secretary Pete Buttigieg appointed Hutcheson Deputy Administrator in late January following the departure of Meera Joshi. As deputy administrator, Hutcheson also serves as the Acting Administrator, and President Biden nominated her for the role of Administrator in April. FMCSA hasn't had a full-time administrator since Ray Martinez, who stepped down from the post in October 2019. The job has since been held by Jim Mullen, Wiley Deck, Joshi and Hutcheson, each as acting administrator.
Hutcheson steps into FMCSA at a time where transportation is enjoying heightened public awareness, and she pledged to continue shining "a spotlight" on the trucking industry.
"Now, more than ever, Americans are acutely tuned into how our goods get to our homes – from the flour for the bread we eat, the clothes we wear, the beds we sleep in – we all have a better understanding that it probably came on a truck," she said. "People, in this case, drivers, are the most important part of the industry. It is a difficult job, and men and women have been working long hours to literally keep our economy rolling in the face of unprecedented challenges."
Hutcheson, whose pending confirmation has already received support from the American Trucking Associations, the Owner-Operator Independent Drivers Association, the Truckload Carriers Association and the Commercial Vehicle Safety Alliance (CVSA), made clear in her testimony Wednesday that safety would be among her highest priorities, calling the opportunity to lead FMCSA "an honor... in carrying out our life-saving mission."
[Related: Traffic deaths reach 16-year high, NHTSA estimates]
National Highway Traffic Safety Administration (NHTSA) last month estimated that 42,915 people died in motor vehicle traffic crashes last year, a 10.5% increase from the 38,824 fatalities in 2020. The projection is the highest number of fatalities since 2005 and the largest annual percentage increase in the history of the Fatality Analysis Reporting System.
"Of those lost, 800 were commercial motor vehicle drivers," she said. "In the 25 years I have worked in the transportation industry, safety has always been at the core of my work. I have had the opportunity to lead a large organization with front line and operational staff with boots on the ground, like those at FMCSA. I have learned that the foundation of successful leadership requires collaboration and transparency within the agency and across stakeholder and Congressional relationships."
As Deputy Assistant Secretary for Safety Policy with the Department of Transportation, Hutcheson led the development of the National Roadway Safety Strategy, which identifies numerous actions to improve safety for the men and women driving the commercial motor vehicle industry and all those with whom they share the road.
"For FMCSA, such actions include increasing our investigations in high-risk carriers, and technology investments to close registration loopholes that would prevent unsafe drivers from ever being on the road," she said, noting ongoing work with regard to in-depth analysis of crash causations, which would allow the agency to target its resources to improve safety.
[Related: 'Crisis level' of truck-occupants deaths looks tragically preventable]
Boosting the trucking laborforce
Hutcheson told the committee she supports ongoing efforts to bolster the truck driver workforce, including the Department of Labor-backed apprenticeship program – which she said has topped 500 registrants – and a Women of Trucking Advisory Board – which she said has reached more than 250 nominations – to identify barriers for women entering and remaining in the driving profession.
Hutcheson said she does believe there is a national shortage of truck drivers and that the apprenticeship program, among other initiatives, will help combat it. One of the initiatives Hutcheson sees, at least near-term, lacking influence in driver recruitment is driverless technology, deferring the emergence of autonomous tech as a safety play.
"Automated vehicles, if done correctly, can have an impact on lessening roadway fatalities," she said, calling it "technology that can both improve safety outcomes and support innovation for the trucking industry as well as the driving public."
Sen. Deb Fischer (R-Nebraska) told Hutcheson she was preparing to reintroduce the Transportation and Logistics Hiring Reform Act, originally introduced in 2017, which she said would create a national hiring standard for motor carriers. In short, the Act would require shippers and brokers to ensure that a carrier is registered with and authorized by FMCSA; has minimum insurance coverage; does not have an unsatisfactory safety rating; and is not operating under a shutdown order.
Hutcheson responded that FMCSA was already working to clarify its definition of "broker" and was close to seeking public comment on standardizing how shippers and brokers hire carriers.
Sen. Jerry Moran (R-Kansas) asked Hutcheson for her stance on the implementation of hair testing in truck driver drug screenings, a move he's supported for quite some time. She responded that FMCSA is currently working with Health and Human Services to study hair testing, "and stands ready to implement their recommendations."