Trucking news and briefs for Tuesday, June 21, 2022:
FMCSA launches I-81 enforcement blitz
The Federal Motor Carrier Safety Administration on Monday announced an enforcement and education blitz along I-81, which passes through Tennessee, Virginia, West Virginia, Maryland, Pennsylvania and New York, taking place from June 20-24.
"Driving too fast, following too close, and being distracted behind the wheel can lead to crashes and fatalities," the agency said in the announcement, also linking to a page with safety tips for commercial drivers.
I-81 Corridor Coalition holds truck parking roundtable
The I-81 Corridor Coalition, a group that works to "improve the safety and efficiency of freight and passenger movement" along I-81, will hold a series of virtual roundtable discussion on truck parking from Wednesday, June 22, to Friday, June 24.
The series will focus on truck parking issues in the region as well as practical solutions, technological and otherwise. The events feature speakers from the Federal Highway Administration, various state Departments of Transportation, the Owner-Operator Independent Drivers Association, and various other industry experts. It also includes polling, where the event organizers will reach out to drivers with questions on truck parking preferences and experiences.
Register to attend the virtual sessions via this link.
[Related: Trucking groups petition DOT for truck-parking expansion]
Trucking conditions bounced back in April after a miserable March
FTR's Trucking Conditions Index (TCI) bounced back in April to 3.21 after a dismal reading in March, when the index fell to -7.38. The April reading represents the lowest since July 2020, outside of March's negative reading, as the month saw relatively stable diesel prices and softer capacity utilization. FTR's outlook was "mildly positive in the near term" but contained the warning that fuel price increases could "result in further negative readings."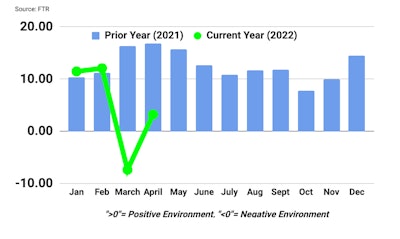 Strong payroll employment gains all around trucking, through, said FTR Vice President of Trucking Avery Vise, "support our analysis that freight demand has remained solid and that weaker spot market metrics this year indicate a shift of activity back to more normal route guides. Driver availability no longer is the key issue to watch in trucking conditions; increasingly, the principal question will be the resilience of freight demand. Downside risks are high and growing due to inflation and related stresses, but our forecasting model so far is not identifying a downturn."
FTR's TCI tracks five conditions in trucking markets: freight volumes, freight rates, fleet capacity, fuel prices, and financing costs to produce a single score designed to represent the "industry's overall health."
[Related: Act Research: Chances of a recession 'essentially 50/50']