Trucking news and briefs for Monday, June 13, 2022:
ACT Research: Recession potential increasing
According to ACT Research's latest release of its North American Commercial Vehicle Outlook, the firm still "believes a soft landing is the U.S. economy's most likely path," but the potential for a mild recession "is becoming an increasingly compelling alternative."
ACT's report provides a complete overview of the North American markets, as well as takes a deep dive into relevant, current market activity to highlight orders, production, and backlogs, shedding light on the forecast. Information included in this report covers forecasts and current market conditions for medium and heavy-duty trucks/tractors, and trailers; the macroeconomies of the US, Canada, and Mexico; publicly-traded carrier information; oil and fuel price impacts; freight and intermodal considerations; and regulatory environment impacts.
"We find ourselves in a turbulent environment, where still significant positive and increasingly negative economic forces are crashing into one another," said Kenny Vieth, ACT's President and Senior Analyst. "With inflationary shocks emanating from Ukraine, the Fed's task of engineering a soft landing has become increasingly challenging. We believe downward pressures are building, and the probability of recession continues to grow. We think the probability of a mild recession is now nearly as likely as that of our base-case scenario."
Vieth added that this inflation-driven economic slowdown is somewhat unique given a number of factors, including "healthy consumer and business balance sheets, strong employment demand and pent-up manufacturing sector activity."
Yet, he noted, "traditional recession predictors are in play: Fed rate hikes, high energy prices, negative exogenous events and falling equity valuations come to mind. We believe the odds of a recession materializing, in some form or fashion, are essentially 50/50 relative to our slowing topline growth into a modest freight recession base case."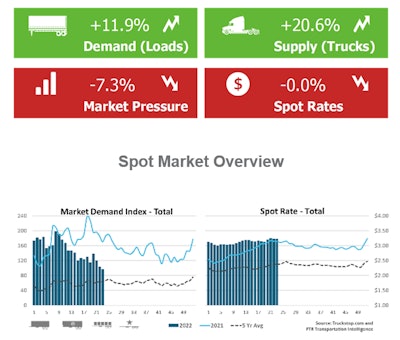 [Related: Will only the strong survive historic fuel-price highs?]
Steering gear recall by Bendix subsidiary could affect 100K trucks
R.H. Sheppard, a subsidiary of Bendix, is recalling 105,271 of its Sheppard steering gears, which the company said were purchased by 29 manufacturers to be used in vehicles, including major truck OEMs Daimler Trucks North America, Kenworth, Peterbilt, Volvo and Navistar.
Sheppard says certain steering gears – model numbers HD94E, M100P, M110P, HD94P, XD120P, MD83P, SD110P, M83P, M90P and M80P -- may have been assembled incorrectly, which can cause the gear to fracture, potentially causing a loss of steering control.
So far, two truck manufacturers, Daimler and Volvo, have issued recalls based on the Sheppard recall.
Daimler is recalling 6,492 model year 2021-2022 Freightliner (FCCC) MT45, 2022-2023 Western Star 4900, and 2022-2023 Freightliner Cascadia trucks with the steering gears installed.
Volvo's recall includes 1,632 model year 2022-2023 Volvo VN model tractors.
Owners may contact R.H. Sheppard at Steering22@RH-Sheppard.com.
Indiana Toll Road increasing rates
Truck drivers traveling across the Indiana Toll Road will be paying higher rates beginning July 1.
According to the ITR Concession Company, a typical five-axle commercial vehicle will pay 10% more to cross from one end of the toll road to the other, with the fee increasing from $66.31 to $72.88. Rates are calculated based on the number of axles of a vehicle.
The Indiana Toll Road spans about 157 miles between the Ohio Turnpike and Chicago Skyway.
The Owner-Operator Independent Drivers Association fought toll hikes along the Indiana Toll Road all the way to the Supreme Court, but a request to review its case was denied last October, allowing a 2018-issued 35% increase in tolls levied against commercial trucks to go into effect.