Trucking news and briefs for Friday, July 2, 2021:
Five individuals sentenced in emissions tampering probe
The U.S. District Court for the Middle District of Pennsylvania sentenced John Joseph, Gavin Rexer, Joseph Powell, Dennis Paulhamus and Timothy Sweitzer each to 1 year of probation and a $100 assessment for conspiring to defraud the United States and violating the Clean Air Act. Joseph, Rexer and Powell were also sentenced to 50 hours of community service, Paulhamus received a $15,000 fine, and Sweitzer was fined $10,000.
Rexer, Powell, and Joseph were employed by Rockwater Northeast, a company that serviced the fracking industry. An investigation found that between August 2013 and June 2014, the five individuals conspired to illicitly disable the emissions control devices in Rockwater's trucks.
Specifically, they either removed the stock exhaust systems and replaced them with straight pipes or hollowed out the emissions exhaust components by removing environmental filters and elements.
Paulhamus also provided high-tech "defeat" devices to assist in the scheme, which the co-conspirators used to disable and manipulate the trucks' onboard diagnostics. They concealed these purchases in Rockwater's books and records by mislabeling them as "exhaust systems."
They then falsely indicated that the illegally modified trucks had passed vehicle inspections at Sweitzer's Garage, an inspection station certified by the Pennsylvania Department of Transportation.
[Related: Engine tinkerers, beware: Emissions tech, steep fines and increased enforcement put the brakes on illegal engine mods]
FMCSA proposes updates to hazmat regs
The Federal Motor Carrier Safety Administration on July 6 will publish a notice in the Federal Register proposing to amend the Hazardous Materials Safety Permits regulations to incorporate a reference to the Commercial Vehicle Safety Alliance's handbook containing inspection procedures and out-of-service criteria for inspections of shipments of transuranic waste and highway route controlled quantities of radioactive material.
Current hazmat regs reference the April 1, 2019, edition of the CVSA handbook. FMCSA's notice would incorporate the April 1, 2021, edition of the handbook.
FMCSA says 21 updates distinguish the 2021 handbook from the 2019 version, but the incorporation of the new handbook doesn't impose any new regulations. The proposed updates can be seen here in the section titled, "Discussion of Proposed Rulemaking."
The agency will accept public comments for 30 days beginning Tuesday, July 6 at www.regulations.gov by searching docket number FMCSA-2021-0063.
[Related: Refresher on the out of service conditions for lights, hours of service violations]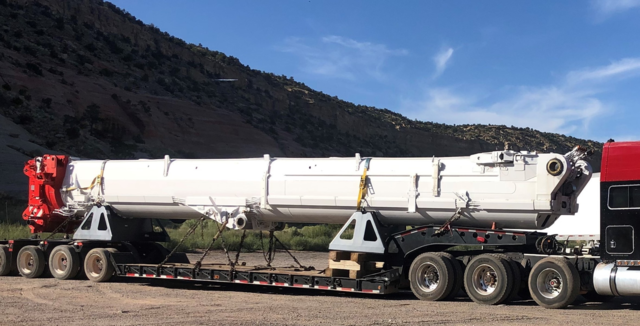 Oversize/overweight rules changes in effect July 1 in Indiana | Previously, motor carriers not hauling metal or agricultural products were ineligible for an Overweight Commodity Permit and would need to make multiple trips or use multiple vehicles to meet the lower weight threshold. Carriers who obtained an OSW Commodity Permit prior to Jan. 1, 2021 are grandfathered into the new law in certain circumstances, which now allows 8,500 total single-trip Overweight Commodity permits for divisible loads exceeding 2.4 ESALs (equivalent single axle loads) and weighing 80,000-120,000 lbs. There are no limits on the number of annual permits issued for divisible loads less than 2.4 ESALs. In addition, what constitutes a civil penalty and how much carriers will pay for violating OSW rules will change. Deviating from the approved route or substituting a different vehicle other than what is listed on the permit will be a violation subject to civil penalties. Carriers could pay up to the following amounts for OSW violations:
**Up to $1,000 (formerly $500) for the first permit violation
**Up to $1,500 (formerly $1,000) for each subsequent permit violation
**Up to $5,000 (no change) for hauling an OSW load without the proper permit
**Up to $10,000 per violation for transporting loads too large or heavy to qualify for an OSW permit

WEL raises driver pay again
WEL Companies is increasing driver pay for the second time this year with a 4 cents per mile increase, for a total of 7 cents per mile since the beginning of the year.
"We are thrilled to announce that for the second time this year, WEL has completed the final stages of another compensation increase for company drivers," said Bruce Tielens, WEL Companies owner. "During these unprecedented times in the transportation industry, we feel our drivers are the best-in-the-industry and our pay offerings should reflect that."
WEL has also increased both holiday and vacation pay and is adding upwards of 75 new trucks to the fleet in 2021.
Yokohama increasing tire prices
Yokohama Tire Corporation will implement a price increase on its commercial truck tires and consumer replacement tires, effective Aug. 1.
The company cites an "unprecedented increase in the cost of raw materials and the ongoing rise of operational costs" for the increase.