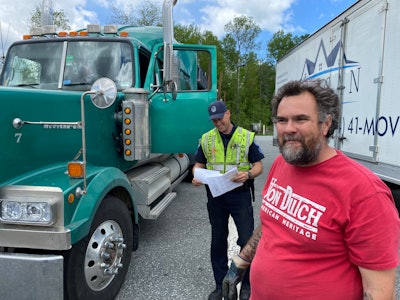 Alex Lockie for Overdrive
Inspectors at White River Junction, about two thirds of the way down Vermont on the way to Massachusetts and just across the Connecticut river from New Hampshire, weren't sweating the small things under the sun and breeze on the first day of 2022's edition of the annual roadside inspection blitz, Roadcheck.
Vermont DMV Enforcement & Safety Captain Kevin Andrews was working on Roadcheck's first day at the rest area off I-91 SB just below the junction with I-89. There, inspectors say they have seen no shortage of spectacle, from every high-wide-and-ugly load you can think of to trucks pulling in for inspection while presently on fire.
Vermont itself is a quiet state, but it sees plenty of traffic from Quebec down to more heavily populated areas of the Northeast, and much of southern and western New Hampshire's traffic hops on I-91 at some point. Currently, the area's in the grip of a once-in-a-generation crunch on diesel fuel inventories, and this author spotted one mom-and-pop station selling it at $6.43/gallon.
[Related: Diesel fuel shortage hits the Northeast]
Most trucks breezed through the rest area lot after a quick walkaround and kick of the tires, but the DMV's Commercial Vehicle Information Exchange Window (CVIEW) system flagged rigs from companies with adverse safety scores and new companies that haven't been inspected before -- or old companies overdue for another.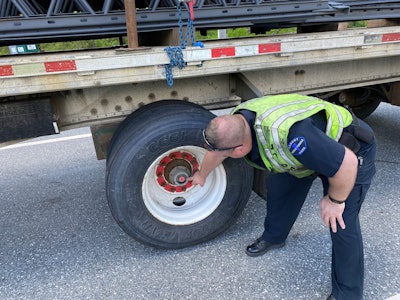 Andrews' team, and the wider CVSA Roadcheck effort, this year targeted wheel end violations, but did their best to keep an eye on the broader picture. Overdrive has covered in detail best practices and intricacies of wheel end maintenance, and Andrews and his team certainly put every hub through a thorough inspection. But inasmuch as inspectors themselves influence the results of an inspection, Vermont enforcement took a nuanced view of contentions around wheel seals. For example, while some inspectors may knock a driver for having some moisture on the seals, Andrews said it was natural and nothing to worry about.
"If there's actually a significant leak, you'll find out about it pretty quickly, it will just be caked," he said, adding that he's seen wheel end leaks cause everything from tire fires to wheel-off accidents.
As always, despite the nominal focus on wheel ends, brakes generally got the most attention from inspectors wheeling around the site. Andrews and his men took the same considered approach to chalking up the air brakes' performance.
[Related: Toughest states for brakes, other vehicle violations, and where they overlap in jurisdictions with high violations-per-inspection rates]
"We can tell if something just happened -- we know sometimes it was working ten minutes ago, but it's just not working now," said Andrews. "But if five of your air brakes aren't working, that's not something that just happened."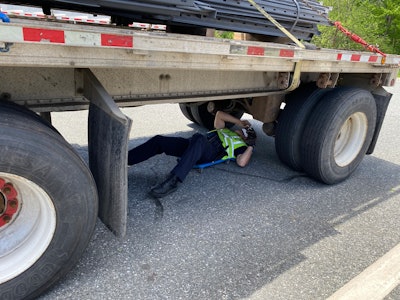 As for what Andrews sees in terms of violations, he said a surprising number of hours of service violations popped up, whether drivers taking a too liberal use of personal conveyance or more brazenly running two logbooks simultaneously.
"We're finding a lot of time marked as personal conveyance where the driver is continuing to drive commercially, misusing the designation," said Andrews. He added that while it can be "really hard to disprove personal conveyance," when supposed PC miles happen to be to the benefit of the carrier, it begs the question.
[Related: Trucking Law: What's appropriate as 'personal conveyance' in the logbook or ELD?]
Following up on a tip, we asked Andrews if he had encountered any serious upticks in trends with contraband. With cannabis legal for both recreational and medical use in Canada, rumors had been floated of unscrupulous shippers loading up unknowing drivers with the U.S.-designated Schedule I narcotic, resulting in the most unjust type of detention for drivers: A night or weekend in jail.
Andrews said finding marijuana in truckloads remained rare, and that it was far more common to find drivers with marijuana for personal use.
Further on that topic, Andrews said it wasn't altogether rare to find someone running afoul of the FMCSA Drug and Alcohol Clearinghouse, most often by not having retested and getting cleared.
"An alarming new trend we're seeing is how many drivers in violation with the Drug and Alcohol Clearinghouse return to duty," he said, noting that on these occasions he documents the offenses, but that ultimately it's up to carriers to remove those drivers. "Again, it makes a difference with what happens if the driver has retested and simply not filed the paperwork and submitted to the Clearinghouse or if they simply haven't even retested yet. If they just never filed" the return-to-duty retest "it's an easy fix. We just have them send in the paperwork."
Eventually, Andrews and his colleague Motor Vehicle Investigator Jonathan Purdy got to work inspecting a 1999 Western Star, getting its brakes' push rods marked with chalk. The driver, Quebec-based owner-operator J.R. Quirion, carried a flatbed loaded with steel destined for use in a construction crane. Despite the truck's considerable age, it passed the Level 1 inspection with flying colors.
"I do preventive maintenance once a week," said owner-operator Quirion, "I do this for me, not for him." Quirion pointed to Andrews. "Even when I'm not driving, my wife, my boys are out there. It's our responsibility to be safe. You can't prepare for Roadcheck, you have to prepare all year, all the time."
Some owner-ops put in a good bit of extra time and effort ahead of the Roadcheck blitz, but for a third, preparation is very much the same as it is for Quirion -- 28% of Overdrive readers noted "business as usual" in our recent poll on preps ahead of the blitz.
Quirion added that his preventive work mostly focused on tires, and that his son is a mechanic who helps him keep the truck in tip-top shape.
He'd actually volunteered himself for inspection. "I wanted to get my sticker," he said, figuring this would likely save him any future unplanned interruptions throughout the rest of Roadcheck. Far from sitting out the high diesel prices and sliding rates, J.R. Quirion had big plans to get down to Pennsylvania and come back from Vermont with a load of logs to be milled. "That stuff is going to a job site," he said, motioning to his trailer. "There's a crane, and if you're late you have to pay for it," he added, stressing his need to continue on uninterrupted.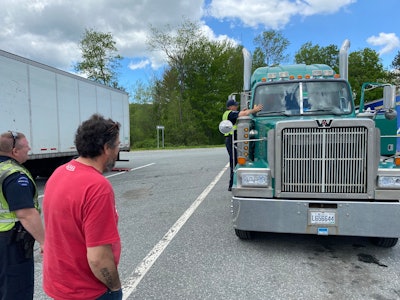 Not only had his rig held up, Quirion said his business had fared well too.
"I'm doing better than I ever had," he said. "We make the most money when fuel is high, everyone is willing to pay if you charge enough."
Quirion reasoned that flatbed rates had fared a little better than other types of trailers, and that the dwindling rates weed out the worst performers in the trucking space.
Just after he rolled off, Robert Marquis, a New Hampshire-based owner-operator, pulled up in an impressive 2022 Kenworth W900L with a brand-new trailer in tow, stacked to the rafters with mulch and soil. Marquis was in a similar habit of running south with a load and returning north with logs. According to Marquis, however, fuel costs had begun to bite against declining rates.
Marquis sent his logbook data to inspecting officer Purdy. The officer flicked through the HOS charts in his vehicle. Though the software flagged some potential violations of the strict terms of HOS, it was clear these overruns ranged in the minutes, and weren't worth further investigation.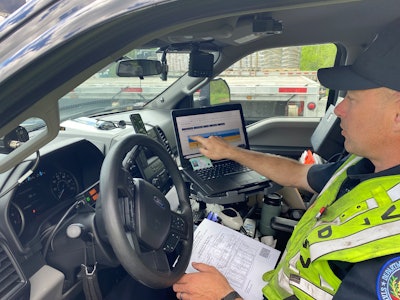 Unfortunately, Purdy has to manually enter all the driver's information into both the state and federal logs, so we sat there for some time, but after entering Marquis' insurance information and ISS score, he was able to see the operator had the best-possible safety score recorded. Most likely, a full inspection wouldn't be worth the effort. In fact, the brand-new truck and trailer had only been flagged for inspection after the gate officer kicked a single tire, noticing an excessive amount of shake. Sure enough, the tire held just 70 pounds of pressure.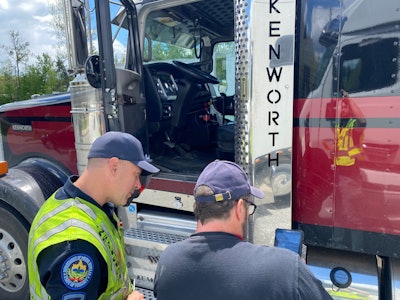 "He must be good if he can tell just by that," said Marquis. After a quick, Level 2 pass over the truck's main components, the Kenworth was back on its way.
Not every inspection yesterday ended well. The presence of a local repair shop's truck spoke to a need for on-site fixes, and one truck showed up hauling a trailer with tires so bald the metal braiding showed through -- and more than one brake so loose the inspector could compress them with his hands unaided.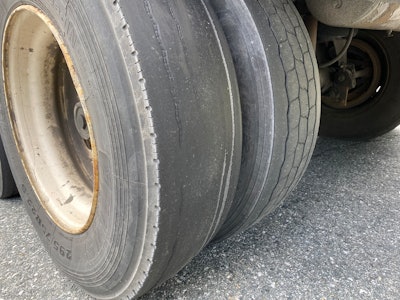 "This is one truck you'd want maintenance to take another look at before they send it out," said Andrews.