Updated May 10, 2022, to reflect the 2022 CVSA Roadcheck inspection event upcoming May 17-19.
While no true professional among owner-operators and drivers wants anything to do with the truck's air brake system being in any way out of order, it's also true that some states put more necessary focus on braking systems than do others during inspections. With the annual Roadcheck inspection event of the Commercial Vehicle Safety Alliance kicking off next week, it's a safe bet the states highlighted above -- our top 15 for brakes violation prioritization in vehicle inspections -- will be up to their normal activities.
As noted in the above chart's pre-amble, violations related to braking systems have been on something of a downward trend, both in overall volume and as a share of all violations. As air disc brake adoption has accelerated in recent years, a good deal of the fall-off can be accounted for by the decline in brake adjustment violations specific to traditional drum-brake systems.
Adjustment-related violations most years have traditionally made up almost a quarter of all brake violations. Between 2017 and 2020, however, adjustment violations' share of all violations fell off more dramatically than brake violations overall, accounting for more than a third of the overall brake violations, which declined slightly more than a percentage point in total.
[Related: What's happening in the hours of service 'black hole' out West]
That's according to Overdrive's analysis of federal inspection data collected from states for calendar years 2017-20, mined by sister Randall Reilly business unit RigDig.
While brake- and maintenance-intense states are more common in the Southern states, among other relevant data, too, are states' violations per individual inspection (VPI) rates. Those rates essentially show those state enforcement departments who are most likely to issue a violation of any kind during any individual inspection, any time of the year.
Given the predominance of vehicle violations in the numbers (they make up the large majority of violations nearly everywhere, every month of every year), these states, too, are probably safe bets for close enforcement next week, and concentrated in the Northern half.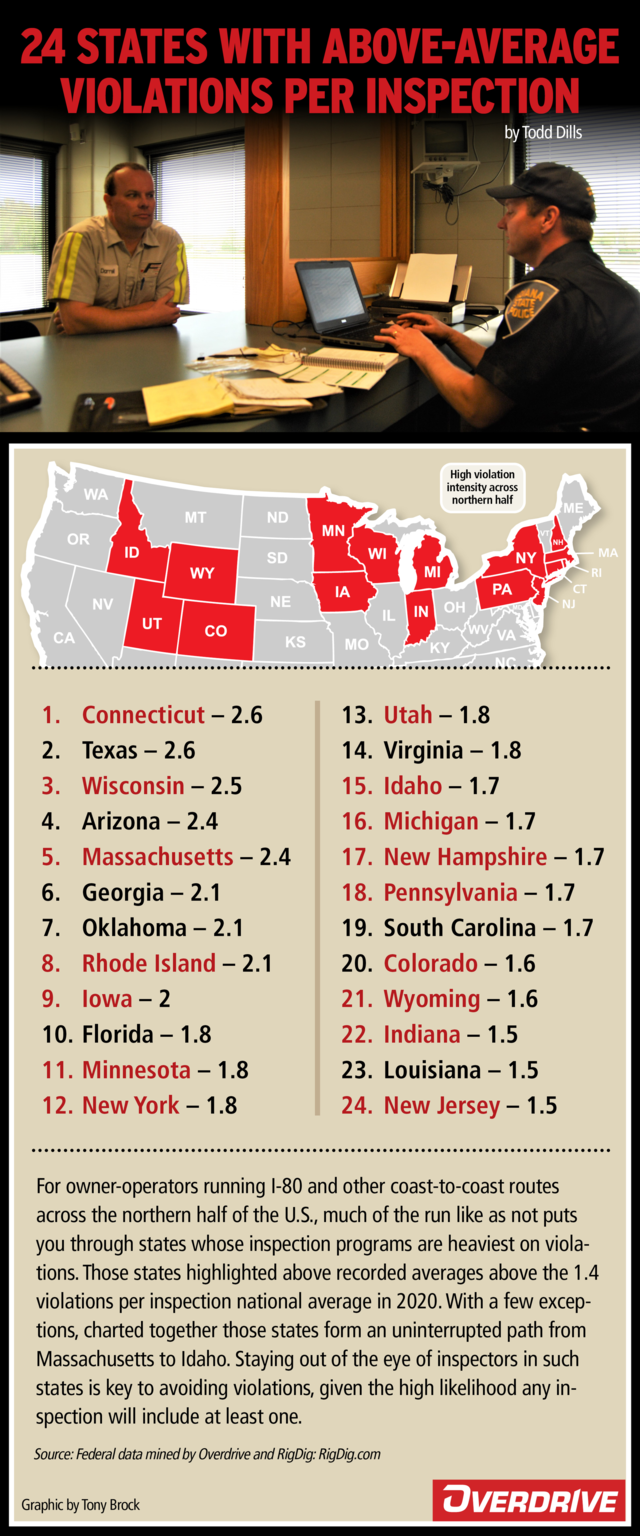 There's at least some overlap among states in the VPI rankings with both brakes- and general-maintenance violations priority rankings. Brakes and maintenance top 15s (see below for the maintenance map) share a total of nine states in common in Maine, Maryland, Virginia, Mississippi, North Dakota, Texas, Oklahoma, Montana and California.
Three of those also rank for VPI: Virginia, Texas and Oklahoma. Take advantage of the time you have for extra equipment inspection before crossing those state lines next week.
[Related: Invest in inspections now to save money, hassle later]