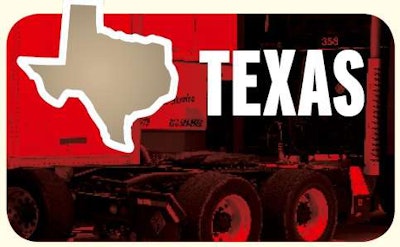 California is no slouch when it comes to enforcing trucking regulations, yet the state conducted 65,000 fewer truck inspections than Texas in 2013. While the Lone Star State is the largest of the contiguous states, there are other reasons it recorded a whopping 534,304 inspections last year.
There are intense oilfield operations in the Eagle Ford Shale area and elsewhere. Numerous interstate highways, with some of the nation's highest speed limits, criss-cross its regions. Those highways host high volumes of truck traffic, including many Mexico-domiciled carriers along the border commercial zone.
These are also factors in Texas ranking No. 5 among the contiguous United States for truck-involved fatality crash density. The Texas Department of Public Safety has responded accordingly.
The state ranks No. 4 for overall inspection intensity in Overdrive's analysis, up a spot from No. 5 in last year's CSA's Data Trail series of reports. The state conducted 10.3 inspections for every lane-mile of interstate within its borders in 2013, up nearly 20 percent from a 2011 inspection rate of 8.8 per lane-mile.
It's not just the number of inspections that stands out; it's also the inspections' focus on maintenance and the aggressive approach to issuing violations. Texas leads the nation in maintenance violations as a share of its total violations. In the maintenance subcategories of light, brake and tire violations, it ranks No. 7, 13, and 2, respectively, in Overdrive's analysis.
DPS officials did not respond to detailed questions posed by Overdrive about the enforcement program for the state's 300,000 miles of public roads, noting only that "it is our mission (along with our law enforcement partners across the state) to help ensure those roadways are safe."
Drivers are quick to relate anecdotes of overzealous inspectors. There's the 2013 case of a driver hit with five separate lighting-system-related violations that all started with a single loose pigtail, a case of "stacking" documented on Overdrive's Channel 19 blog. Stacking is the practice of piling on violations that stem from a single root cause, one that the Federal Motor Carrier Safety Administration attempts to discourage in various ways.
In the August Overdrive, Texas-based owner-operator Keith Stewart recalled the first inspection he'd received after purchasing a good-condition 2006 Peterbilt 379, which he continues to run. On a bobtail run after purchasing the truck, a spot of oil seen on a tire resulted in discovery of a leaky wheel seal and a violation for an oil-soaked brake. The inspector brought out the rule book and had a tough time figuring out whether to put Stewart out of service, costing the driver time and a $100 bonus his leasing carrier would have paid him for a clean inspection.
Since that time, Stewart has become even more of a target for Texas DPS. Now that he's earning big bucks pulling a deck trailer in the oilfield, life would be great – but for the inspectors. DPS is laser-focused on oilfield trucks, particularly anytime there's a serious accident involving such a truck, says Stewart. With the shale-oil boom, mainstream reports surface routinely of growing truck-crash activity in the oilfield areas in Texas, Pennsylvania, North Dakota and elsewhere.
Stewart says that while inspectors generally "keep banker's hours" at the scale houses he passes, if there's an accident, "they'll have an 'all hands on deck' in the Eagle Ford Shale. … Say somebody blows up in a crude truck – there will be an officer on every corner of every farm road. As soon as they get done with one truck, they'll hit another one."
Such targeted enforcement is common across the country, but Texas is different, some drivers say. Stewart sees a more entrenched program to catch a "steady flow of easy-violation trucks" in the maintenance department. Go east from San Antonio on I-10, he says, and "there are two super-coops" between there and Houston. "I've never seen them open in my 13, 14 years running around there."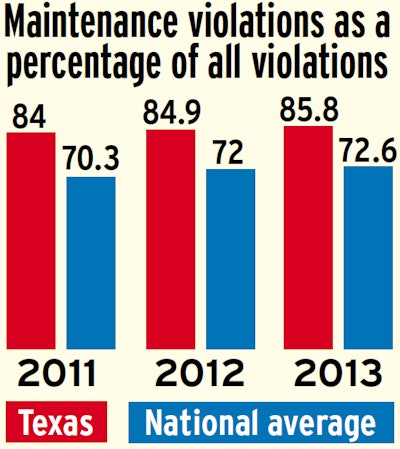 On the other hand, the I-35 scale at Pearsall, Texas, between Laredo and San Antonio, is nearly always open for business-type hours, he says. "The northbound side will be feeding on oilfield and Mexican national trucks," he says, and "southbound will feed on not just general commodity trucks," but any rig suspected of oil field work.
Texas also is above average both for a high rate of violations per inspection and a low percentage of clean inspections. Overdrive reader R.C. Simmons runs only in Texas and has been inspected six times in eight years, but only one of those inspections was clean.
"My problem with inspections is the variants in how and what they inspect," varying not just by state but even from inspector to inspector, as Simmons and others tell it. "It's never consistent," he says. "I have even heard an inspector at the New Waverly scale house on I-45 north of Houston make the statement: 'Well, that's my one clean inspection for today.' No, it was not me with the clean inspection, and it was 4 a.m., her first inspection of the day! I took that issue up with a senior trooper in Dallas weeks later, who knew who I was talking about before I even said her name."
Reader Jack Simon says truck inspections can be a "cat-and-mouse game." Inspectors have a clear advantage "since they can find something wrong with any truck they want, if they choose to use every rule that they have in the book," he says.
In the maintenance realm, it's at least clear that Texas is doing a good job of that.