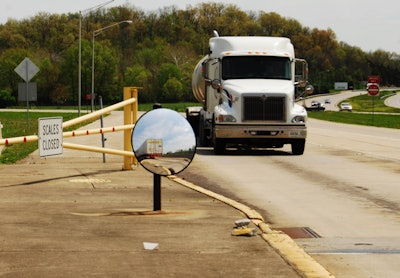 Take I-74 west from Cincinnati, and shortly you'll cross into Indiana, topping a hill that overlooks the West Harrison weigh and inspection station. There's a fair likelihood that state police 1st Sgt. Tyler Utterback will be there, as he was on May 5, when a four-wheeler topped the hill, appearing as if it was part of the grille of the tractor-trailer behind it, Utterback says.
If the truck had had a PrePass unit installed, it might have bypassed the scale, and Utterback would have gotten a clear look at just how close he was following the four-wheeler in front of him. "If I was on patrol," as he often is, he says, "I would have stopped him for following too close."
While the close driving didn't net the trucker's carrier points in the Unsafe Driving Compliance, Safety, Accountability BASIC (Behavioral Analysis and Safety Improvement Category) this time, it was enough for Utterback to determine that the truck was going to be inspected before it ever hit the scales. A leaky wheel seal and inoperative, lubricant-coated left drive wheel brake put the driver out of service.
Targeted roadside enforcement is becoming more common as enforcement departments across the nation increasingly focus on drivers' on-highway behavior. With crash causation studies highlighting driver error and unsafe behavior – from both four-wheeler and truck drivers – expect more states' violation profiles to resemble Indiana's more closely, with most inspections conducted not at a fixed weigh-station location but along the roadside, often after a traffic stop.
Top states for moving violations (ranked as a percentage of all violations issued)

Among all 48 continental states, 2013 saw 29 states increase their attention to moving violations, figured as a percentage of each state's total violations. Among the top such states (shown above), nearly 3 in 4 saw their moving violations' share grow in 2013 against other violations. (Access data for all 48 continental states via the interactive maps and downloadable rankings OverdriveOnline.com/csa.)
Also, 29 states boosted their focus on hours of service violations.
Maintenance violations, however, showed more stability, with fewer states showing a rise in violations. While 2013 saw a slight decrease in overall violations from prior years, both moving and hours violations grew as a share of all violations nationally – hours by almost a full percentage point.
The reason for Indiana's prominence at the top of the moving violations rankings, says Utterback, is related to the structure of its enforcement program. In addition to civilian inspectors working the state's seven scale locations, a small number of troopers are certified to conduct all levels of roadside inspections, with about 200 other troopers throughout the state trained to conduct only Level 3 driver inspections.
"They work the road," Utterback says of the latter group. "They submit so many non-Motor Carrier Safety Assistance Program-funded roadside inspections, and then they're eligible to work some overtime funded by MCSAP." MCSAP is the federal program that helps fund state truck enforcement activities.
Utterback describes such officers' mission: "We want you to focus on areas known to have crashes, and we want you to focus on violations in your area known [to be associated with the] causation of crashes. … They're crafty at finding moving violations, but we're not holding their feet to the fire and telling them, 'Don't turn in an inspection without a moving violation on it.' " The officers engage in targeted enforcement, actively looking for a violation to make the stop and "conduct a Level 3 inspection along with that."
What that looks like at roadside level is familiar to Scott Carlson, who hauls reefer and dry freight for Pennsylvania-based Regal Service Corp. He was pulled over this year on the Indiana Toll Road near Chicago after making a few passes. The officer "said somewhere back there I didn't signal a lane change, and he wouldn't tell me where exactly. I've been doing this long enough to know not to start an argument."
The Level 3 inspection was clean except for the mark that ultimately would go against his carrier's Unsafe Driving BASIC score – for failure to signal a lane change. "I asked the officer 'Why didn't you just give me the Level 3 clean?' " Carlson says. "He just looked at me, shrugged his shoulders and smiled."
Regal's safety director told Carlson this has become typical for the company's Indiana inspections. Regal runs about 60 company trucks heavy on late-model Peterbilts and Kenworths, as well as leasing with 10-15 owner-operators. Recent inspections the company received in Indiana, where many of its miles are run, in large part resemble his own, Carlson says. "We've passed them all, but they put that warning in" on every one for a moving violation, he says.
Rudy Supina of the DATTCO bus company remarked on the phenomenon at the April meeting of the CSA Subcommittee of FMCSA's Motor Carrier Safety Advisory Committee. "We're seeing a huge increase in officers not writing a ticket but only writing [the moving violation] on a motor carrier safety report," Supina said.
Supina suggested the practice was a result of FMCSA's announced decision to honor court adjudications of citations by discounting the associated violations' weight in carriers' CSA scores. It's part of the agency's attempted fix of a well-known problem with the DataQs system, as related litigation brought by the Owner-Operator Independent Drivers Association alleged a lack of due process for violations associated with a citation.
Put forward as a proposal late last year, after a court decides in favor of a driver and throws out a citation, the discounting in the CSA SMS will take place through the DataQs violation appeals process from Aug. 23, according a June FMCSA announcement.
In Overdrive's 2014 CSA survey, however, a majority of drivers reported no discernible change in officers' citation-writing practice since the DataQs-change announcement. One-third saw the announcement as resulting in a greater likelihood that a citation would be issued.
If Carlson's example is any indication, such results might show some wishful thinking, given drivers at least can challenge a citation in a court of law. Moving violations marked without an attendant citation won't appear on drivers' Motor Vehicle Record, but prospective employers will be able to access the violations via drivers' Pre-Employment Screening Program reports. The only way to contest violations from that record is via FMCSA's DataQs appeals process.
Indiana ranks No. 5 on the list of states least likely to issue a clean inspection. Only 18.5 percent of its total 2013 inspections uploaded without a single mark against the carrier or driver.
On the other hand, more than half of the inspections (51 percent) issued by Pennsylvania enforcement were clean in 2013. The truck enforcement program there in some ways resembles that in Indiana, however, with more state and local officers being certified to perform driver credentials inspections to "capture the moving violations," says Cpl. Rick Koontz of the Pennsylvania State Police Commercial Vehicle Safety Division. It's what "really causes CMV crashes – not the lights, the brakes or the tires. It's driver error."
With about 700 inspectors, Pennsylvania in 2013 also changed the make-up of officer-required minimum inspections to include more Level 3 inspections. There was some success last year.
Pennsylvania's issued moving violations stood at 7.7 percents of its violations in 2013, up a full percentage point and then some from 2012. The total number of inspections performed was way up from 2012, launching the state to No. 2 in Overdrive's inspection intensity analysis, behind only neighboring Maryland. Despite a high-priority grant the state received from the MCSAP program in 2011 to focus on bus inspections and safety, Koontz says "the majority of our increase in inspections are not of passenger vehicles – they are trucks."