New York State's inspection numbers have shown a bit of a decline since cracking the top 10 in 2015 (at No. 10) in Overdrive's annual comparison of states' inspection intensity. That ranking is calculated as the number of inspections per lane-mile of National Highway System in the state. New York currently ranks No. 13 in that metric, based on 2017 inspections.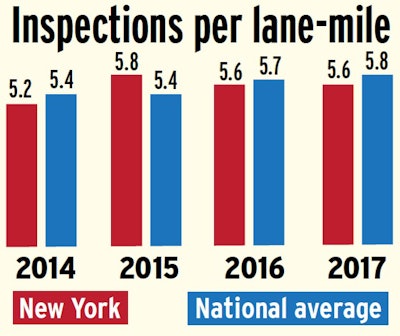 On another count, New York has turned up as a consistent third among states when it comes to inspection volume. That bragging right is even more impressive considering that the state trails only California, which is three times larger geographically, and Texas, which is five times larger. Furthermore, the state ranks high in violations per inspection.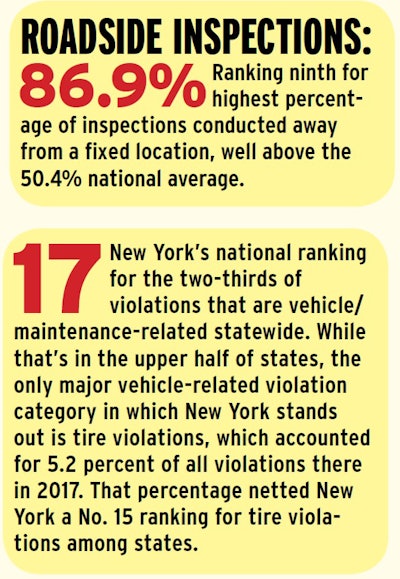 New York has staffed up well to maintain its inspection volume. The New York State Police's Commercial Vehicle Unit has 110 CVSA Level 1-certified inspectors, according to its website, and there are other inspectors with the state Department of Transportation, as well as support from a variety of more local departments.
Of the more than 100,000 inspections uploaded to the federal MCMIS database in 2017, nine of 10 occurred somewhere other than a fixed weigh station. That's largely a matter of practicality, given that in the densely populated areas around New York City and on Long Island, "there are just no scales," says car hauler Pete Harrigan of Lindenhurst in Suffolk County. Instead, enforcers normally use portable scales at various areas.
"They'll set one up for today, say, and pull five trucks" and wave everybody else by while those trucks get inspected, Harrigan says. At least in eastern Long Island, "they're big on sandboxes," meaning local dump trucks that risk being overweight, he says.
Harrigan believes the reputation of his company – sizable car hauler Cassen's Transport, based in Missouri – helps him to stay out of the eye of inspectors. The worst experience he's had was a roadside stop in Southampton, netting a minor violation for having a marker light out, possibly a visual cue that prompted his being stopped.
New York ranks 10th among states issuing the most violations per inspection, and it's a bit stingy with clean inspections. In 2017, 44.5 percent of all inspections came out violation-free, below the recently rising national average of 48.2 percent.
Harrigan previously was happy to stick to the New York Thruway toll route across the state, as were most truckers he knows, before he ran more local between Newark, New Jersey, and Long Island. "There are no scales on the Thruway," he says. He's never been pulled over there in more than three decades of hauling.
Connecticut-based independent Alex Prifti, however, says tandem areas just off many Thruway exits have served dual purposes more recently — for doubles haulers to do what's intended there (converting double units to singles) and to give enforcement "a plenty wide area to set" mobile scales.
Some scale infrastructure exists elsewhere, of course, and improvements have been happening, notes Connecticut-based independent flatbedder Joe Bielucki. He points to I-90 westbound approaching Albany in Schodack, where weigh-in-motion sensors appeared to have been added recently to the combination rest area/scale and inspection facility there. "It was closed for years," he says. "They've renovated it with in-motion scales" and other sensors. "I have yet to see it open."
The New York Department of Transportation, the lead Motor Carrier Safety Assistance Program agency in the state, declined to speak to Overdrive for this story.
That's no surprise to Prifti, who says New York is "not exactly the most truck-friendly state." It seems manpower-heavy, too, when it comes to enforcement. "You'll be creeping through the state at 1, 2 a.m.," and there's a trooper waiting for you in the median. "They're intimidating with the hours that they work. They don't mess around."
Heavy use of the rest areas by portable scale units feels a little like New York's doing its own 72-hour inspection blitz once a month, says Prifti, who drives a vintage 1987 Peterbilt 359. It's also a little frustrating because those inspections tie up truck parking, he adds.
The I-87 rest area/scale northbound out of Albany is "open often enough," says Bielucki, who's seen mobile units in action quite often beyond toll gantries at the Newburgh-Beacon Bridge over the Hudson River on I-84. "A very good chance on a mid-morning day to go through that cashbox and have a guy standing there on the side" waving you over, he says. "That's a very common area for them to check you out."
The usual best practices for inspection avoidance apply. A professional truck and operator – "I always wear a button-down collar when I'm driving," Bielucki says – help mitigate inspection delays. "I keep myself tidy and my truck tidy," adding that he's never had an inspection issue in New York.
Find all of the CSA's Data Trail state profiles via the links below:
Tennessee
Iowa
Washington
North Carolina
New Mexico
Mississippi:
Illinois:
Virginia:
Arizona:
Arkansas:
Wisconsin:
California:
Georgia:
Ohio:
Indiana:
Oregon:
Texas:
Connecticut:
Pennsylvania:
Maryland: