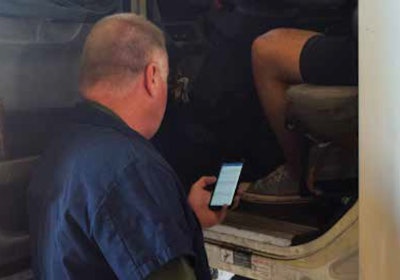 The number of hours of service violations in Kansas, calculated as a percentage of total violations issued, had been declining for years until rising slightly last year. The long decline reflects national trends, as shown on the graph below. Many watchers see such as inevitable in light of the uptake of electronic logging devices by so many carriers.
Nonetheless, for those running paper logs or ELDs, but particularly the former, according to Kansas Highway Patrol Capt. Christopher Turner, the state has something of a secret weapon for its Level 3 driver inspections. Those inspections, taking place primarily at rest stops, Turner says, are performed by a "small group of retired troopers." They're experts in all matters of commercial enforcement, Turner adds, most of them with a "grasp of hours of service that will be exponentially better than a roadside guy's."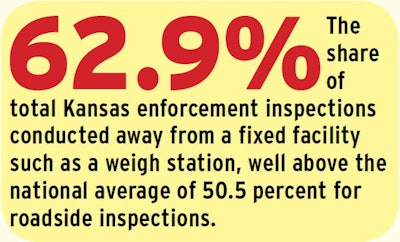 Working part time, they're approved for 999 annual work hours. Their assignment is partly to fulfill the Federal Motor Carrier Safety Administration's request that a third of all inspections conducted be driver-only.
That secret weapon has allowed Kansas to maintain a top 10 ranking in Overdrive's CSA's Data Trail tally of states in the hours violation category. Kansas' issuance of hours infractions for the first quarter of 2018, however, knocked the state out of the rankings as violations under the ELD mandate early in the year vaulted other states ahead of it.
That reflects what Turner had to say about the character of many of the issued hours of service violations: "Sixteen percent of our total violations are just 'attention to detail,' " he says, or non-serious form-and-manner infractions. The number in 2017 was in fact less than 16 percent of all Kansas-issued violations but accounted for more than a third of total hours violations.
And form-and-manner infractions are certainly declining there, as they are nationally. The catch-all 395.8 code for them fell nationwide by 8 percent between 2014 and 2017. Yet in Kansas, the fall was 23 percent over the same period. Form-and-manner violations in 2017 made up a greater percentage of total hours of service violations than in earlier years, suggesting either generally less enforcement of hours in Kansas or, perhaps more likely, more strict compliance with more serious hours limitations as truckers turned to ELDs.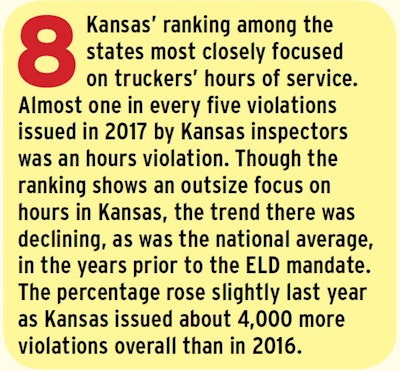 Kansas' inspection numbers have not fallen nearly as far in the same period, after all. At the eight weigh stations operated by the lead Motor Carrier Safety Assistance Program agency (Turner's Highway Patrol), Kansas civilian and sworn inspectors performed almost 18,000 inspections in 2017, with another 30,000-plus at the roadside. That's down a smidge over the last few years, but nowhere near the almost 40 percent decline total hours violations have seen.
The way of enforcement for the future, says Turner, a recent past president of the Commercial Vehicle Safety Alliance, will continue the trend on offer in Kansas, away from clerical hours violations and vehicle infractions. Instead, as in some other states, it will move more toward behavioral infractions that are the cause of the vast majority of accidents where trucks share some culpability.
Weighing enforcement priorities is a little "like playing the lottery," Turner says. Compared to the 1980s, today's equipment in general is "exponentially safer. Which are you going to play, the [game] that pays out 70 percent of the time or the one that pays 80 percent of the time? We want components to be safe going down the road, but focusing there at the exclusion of driver violations is at the expense of what actually causes a fatality."
With ticky-tack hours violations declining in Kansas, "I have made a concerted effort to focus on driver behavior," Turner says. That includes marshalling the 340 or so troopers there in specific coordinated efforts to police motorists' errant behavior around trucks. Those troopers are certified at least to CVSA's Level 2 inspection standards, with 80 troopers dedicated to truck and bus enforcement.
"When a truck crashes, usually it's not the truck's fault, but when it is, 90 percent of the time it's a driver error" that causes the crash, he says.
Also in this series:
Find all of the CSA's Data Trail state profiles via the links below: