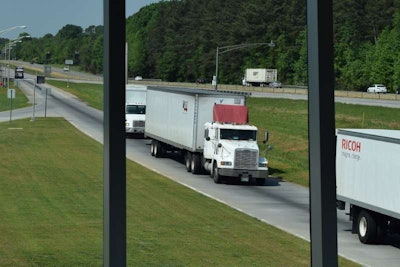 Comparatively speaking, Wisconsin doesn't perform a lot of truck or driver inspections. The three inspections for every lane-mile of national highway system roadway in its borders that it conducted in 2014 puts it down in the lower tier of states for inspection intensity in Overdrive's analysis.
But in another metric, it's almost tied for first in the nation: violations per inspection. It joins Connecticut, which we profiled in the October 2014 issue, at the top of the rankings for toughest states for truckers, with more than three violations issued for every inspection performed.
However you slice it, the state's clearly taking a targeted-enforcement approach that leaves little room for improvement of carriers' Compliance, Safety, Accountability scores with clean inspections.
J. Webb Kline, owner of the Pennsylvania-based Cream of the Crop small fleet, saw once again earlier this year how a single adverse inspection can send one or more of the CSA program's Behavior Analysis and Safety Improvement Category (BASIC) percentile rankings into the veritable stratosphere.
Seemingly overnight, Cream of the Crop shot up above the 90th percentile in the Hours of Service Compliance BASIC. With an hours score above the "intervention threshold," signaled by the golden triangle in the carrier's CSA Safety Measurement System profile, Kline's fleet automatically will be placed in the "inspect" category in the federal Inspection Selection System, with a score above 75. Hours of Service is the only single CSA BASIC treated this way in the ISS.
The problematic inspection occurred when a local sheriff, in concert with the Wisconsin Department of Transportation, wouldn't let a driver correct a log book mistake he'd made prior to a single-vehicle, no-fault accident. Ultimately, more than one hours violation was issued. If anything, the only violation should have been form and manner, Kline concluded after having the logs audited.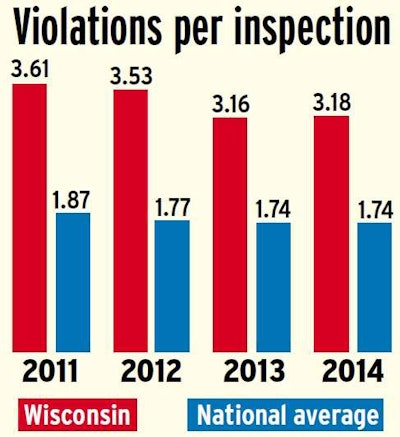 Those violations included more than 14 hours on-duty and log falsification. Kline's 14-driver fleet previously had battled a high hours BASIC score (in part chronicled in Overdrive's 2013 CSA's Data Trail series of reports), and after a few years with no violations, the fleet had worked its way into the top 5 percent of carriers in its peer group.
What a difference a day makes. It's these kinds of inequities in the CSA scoring system that so infuriate much of the owner-operator and small fleet community. In Wisconsin, as long as that score remains high, Kline's drivers can count on further inspections at scales they cross.
Lt. Karl Mittelstadt, in charge of the federal Motor Carrier Safety Assistance Program's administration in the state, confirms that many of its inspectors actively use the ISS to screen trucks on their way into any of the state's 13 fixed scale and inspection facilities.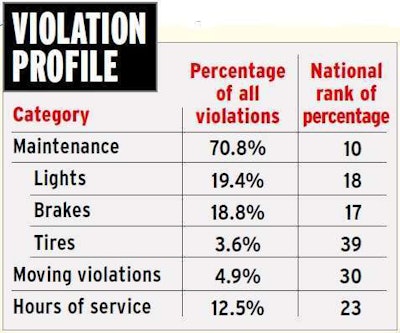 Mittelstadt also attributes the high number of violations per inspection recorded in his state to other factors. Not least among them is the increasing use of technology and widespread frequent training on such technology as it applies to inspection selection and spotting violations.
"We've always been a state that holds equipment very high" in inspection priorities, he says. "We do an annual in-service at Fox Valley Technical College in Appleton," describing the college as one of the "largest diesel training facilities in the U.S."
The college has about 50 power units and 100 trailers of a variety of makes and models. They "bring them into these diesel shops to create violations and give our inspectors" plenty to work with. "It all plays a huge benefit for our agency and our inspectors to train."
Wisconsin also has invested in five performance-based brake testers at fixed facilities, some with enclosed, environmentally controlled bays. That means the DOT there has no problem during the long winter using the testers, which measure overall brake performance as a percentage of optimum performance, to cite truckers for violations that otherwise might not be obvious.
The PBBTs "enable us to detect out-of-service violations more readily," Mittelstadt says. Mechanical observations such as a pushrod underextending might indicate that "somewhere in the system, something else may not be working correctly." Wisconsin uses the PBBT to get an idea of just where that fault might exist. If federal data is any indication, violations pile on as a result.
All of Wisconsin's inspectors are sworn police officers – about 100 certified to conduct all Commercial Vehicle Safety Alliance inspection levels, including hazmat and cargo tank. Also, 10 sergeants, two lieutenants and a captain are certified at the same levels.
Truckers are likely to see them on the road or at the inspection facilities. Data shows that in 2014, the state did almost half of its inspections at one of its 13 fixed facilities covering major ports of entry. The other half was conducted at roadside. Roadside activity and the state's prioritization of traffic enforcement, Mittelstadt says, also might help explain the state's relatively few clean inspections and high intensity of violations.
"If you stop a truck for speeding, that's a violation" before the stop has risen to the level of an inspection, he says. "All of our inspectors are outfitted with radar."
Don't expect violation targeting to let up in the state anytime soon. "We've been experimenting with a thermal imaging camera at one of our facilities," says Mittelstadt, presaging potential further investments in brake-violation-screening tech. "We're looking at a lot of vehicles, and they're leaving and not getting an inspection."
Kline's driver's attorney considered his case, being adjudicated as this story went to press, as a "slam dunk" in the driver's favor, but Kline reported the court refused to overturn citations issued. If dismissed or reduced to a lesser charge, given FMCSA's new policy toward adjudicated citations, Kline's hours CSA score would have stood to benefit. The CSA "nightmare continues," he says.