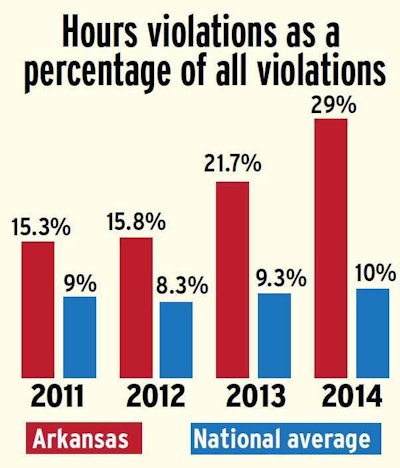 In almost every year since Overdrive began tracking national and state violation priorities in late 2010, the percentage of hours of service violations has risen. Given the preponderance of individual maintenance issues in the violation stats, the cumulative hours focus doesn't look like much – just more than a percentage point rise in three years to today, when 1 in 10 of all written violations have to do with the log book.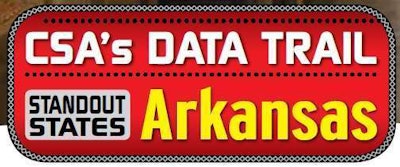 But in particular regions of the country, enforcement departments are flexing their muscle with hours violations in a much bigger way. In no place was that more evident in 2014 than in Arkansas, where hours violations accounted for nearly a third of its total 68,300 written violations, up from just 15 percent of all violations issued in 2011. In real terms, that's 7,331 more hours violations issued to truckers in 2014 than in 2011 within Arkansas' borders, a 41 percent increase.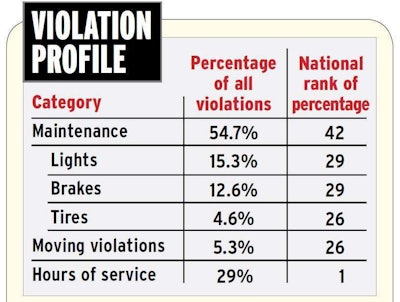 Over that same time, inspection totals as well as overall violation totals have fallen in the state, a reality Maj. Jay Thompson of the Arkansas Highway Police says is partly a result of manpower stress. The department's "budgeted for more than 200" dedicated truck safety enforcement personnel, Thompson says, but currently only 114 full-time road and weigh station troopers are certified to conduct Commercial Vehicle Safety Alliance Level 1 inspections. With hiring initiatives under way, Thompson says, expect full staffing within a few years.
In spite of manpower issues, Thompson says, the state is boosting the number of inspections it's performing, particularly in the last nine months. With in-vehicle laptops and other screening tools at its 11 weigh stations (eight of them open around the clock), and with carrier data, the department's better able to target the trucks it believes are apt to be in violation.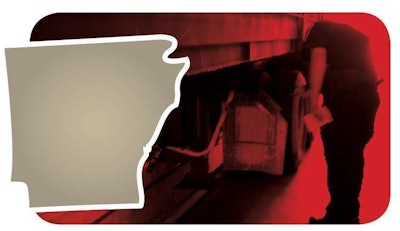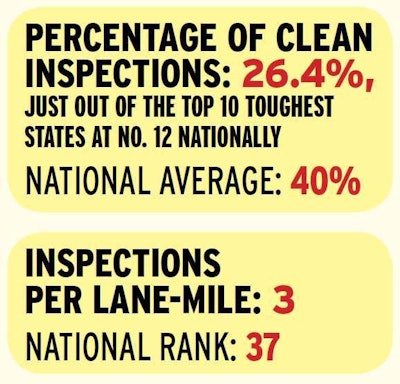 While truckers hauling the highways of Arkansas are relatively unlikely to receive an inspection, those who do can expect an uncommon focus on hours of service. Arkansas continued a move begun in 2013 toward a more heavily hours-focused approach to pass perennial hours heavy-hand Oregon at the top spot on the list of states toughest on hours. North Dakota and Wyoming also moved ahead of Oregon. In 2014, Arkansas was far and away the state most heavily focused on hours enforcement.
Thompson says the turn to hours in the state's violation statistics in 2013 and, more pronounced, this past year may be a result of a renewed focus on retraining roughly concurrent with his promotion to his current position a year ago.
"The transport industry is one of most heavily regulated in the world," he says. "The regulations change and, let's face it, you've got to have continual training – if you don't, your comfort zone shrinks. If you're not comfortable with the hours regulations, you're less apt to enforce them."
The hours regulations themselves have changed, of course, in both 2013 and at the end of last year, with the Congressionally mandated suspension of the once-per-week use of the restart and the requirement to include two 1-5 a.m. periods in the 34-hour period. Arkansas made it a priority to be certain its 70 mobile patrol officers and 44 weigh station personnel, the latter of whom conducted the majority (69 percent) of inspections in 2014, clearly understood the changes.
When it comes to hours, the Arkansas Highway Police clearly has found its comfort zone.
In 2014, mandated 30-minute-break-related violations accounted for 6.1 percent of all written violations in Arkansas, a full 20 percent-plus of all hours violations. Similar levels were evident in 2013 when the break requirement initially was instituted.
The break is proving to be easy pickings for enforcement in Arkansas. Make sure it's been logged straight when crossing into the state.