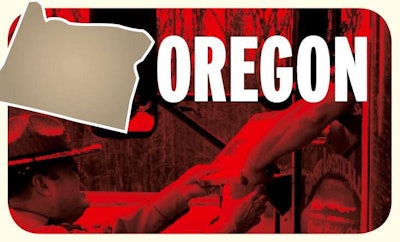 The state of Oregon is known among owner-operators for more than its scenic mountain passes and rocky coast. The state also ranks No. 1 in hours of service enforcement.
No state issues a greater percentage of hours violations among its total violations. That was nearly one in four for Oregon during 2013.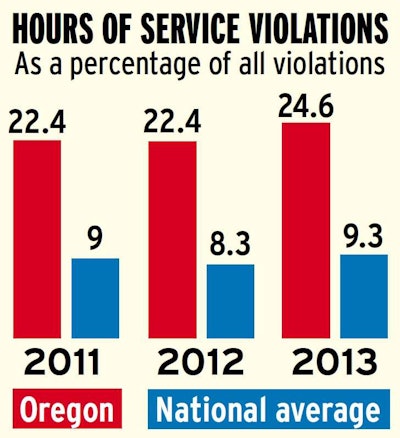 The motivation is that officials see driver behavior as the most effective enforcement area, and an unusual data set allows Oregon to enforce hours compliance to a depth that most other states just don't.
"Our daily goal is to reduce the number of truck-at-fault crashes," says David McKane, a manager in truck enforcement at Oregon's Department of Transportation. Unlike a lot of jurisdictions, as well as federal regulatory accounting, Oregon takes an extra step in processing truck accidents. "When the crash reports come in, we determine the causes of the crash," says McKane, adding that the vast majority of truck-at-fault accidents have nothing to do with the vehicle itself. "Ninety percent show driver actions" as leading to the incident, he says. "Five percent only are caused by a vehicle failure. Our philosophy is if it's the driver that is failing, we should pay closer attention to the driver."
But it's not traffic enforcement that gets the majority of the attention, as reflected by the numbers in the federal database. In Overdrive's analysis of 2013 data, Oregon ranks 43rd among states for the percentage of violations marked on inspection reports that are moving violations.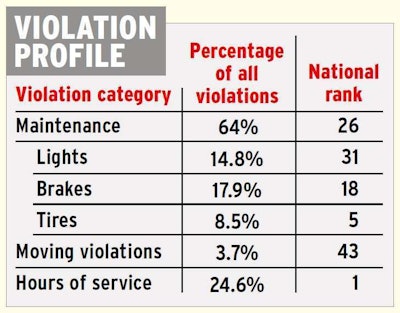 One possible reason for this low mark is that it's policy in Oregon for a traffic citation to be issued before a moving violation is marked on an inspection report. McKane says the policy was put in place in response to motor carriers stating that moving violations listed only as violations on an inspection report were difficult to challenge and have detrimental effects on a motor carrier's Compliance, Safety, Accountability score. In 2013, there were about 15,000 roadside traffic stops in Oregon, he says.
On the hours front, the difference is access to information: "We use data that other states might not," says McKane.
Oregon is among just a few states nationwide with a weight-distance use tax for heavy vehicles; as such, it operates its own bypass system. "When we weigh a truck, we record that the truck was there," McKane says. That record is available statewide and in other states. "If I'm in Portland looking at a logbook, I can get on my computer and see where the driver's crossed three or four scales on I-5."
Weigh station data helps mightily in verifying a driver's activities, McKane says. "If he's off substantially, he's got a problem."
In addition to routine enforcement, unannounced 24-hour blitz efforts that target hours of service at various locations have been common since 2009, says McKane. During those, "we do nothing but bring drivers in to check their logbooks."
Washington State-based Tilden Curl, owner-operator of Tecco Trucking, views such hours enforcement as an effective deterrent to logbook cheating.
"I'm much more in favor of that sort of enforcement rather than a more-intrusive EOBR-type setup" with an "automatic dispersal from the truck to a passing enforcement officer," Curl says. "I have a lot of issues with that sort of enforcement," which has been talked about and tested more frequently via FMCSA's Wireless Roadside Inspection efforts. "It's a warrantless search."
At the same time, Curl says he hates getting inspected in Oregon. "They really go through your business," he says. Before he transitioned to a manual-entry logbook app for his tablet, "I had to spend 30 minutes going through my logbook" with an ODOT officer on one occasion.
Oregon also shows particular strength in tire violations, part of CSA's Vehicle Maintenance Behavioral Analysis and Safety Improvement Category. Concerted efforts around winter chaining laws notwithstanding, McKane explains that among the 500 or so certified truck inspectors across the state, most local and state law enforcement officials are not certified for full Level 1 inspections.
"Most of the law enforcement folks do the Level 2 inspection," he says. "You don't check the brakes in a Level 2. But you do check the tires."