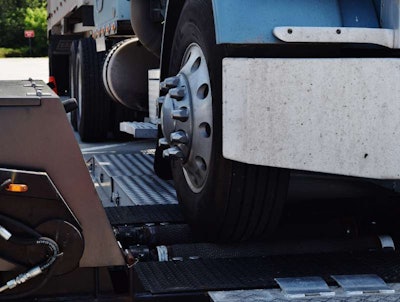 The chart above shows states ranked 1-10 by brake violations issued in 2014 as a share of the state's total violations (brake violation shares are shown in the top, orange bar with each state). With the Brake Safety Week enforcement effort upcoming next week, expect these states to be particularly prone to issue violations. Most of them also rank high when you look at overall maintenance-related violations as well, shown with the blue bars above.
Only a couple, Oregon and Idaho notably, are down toward the middle of the pack on maintenance violations overall, and both of those states, you'll note, have relatively high shares of hours-of-service violations that cut into percentage rankings for maintenance overall.
Find an interactive map of the top-ten maintenance-violation states at bottom, and data for all 50 states via the download available via our CSA's Data Trail main page.
As with the June Roadcheck inspection blitz, overall inspection numbers for the Brake Safety Week month (September the last few years) don't show a largely boosted number of inspections when you dig into monthly numbers nationally, as shown in the chart. Inspections do seem to go up this time of year after the summer doldrums of July and August (or at least they did in 2014), but better weather is as good an explanation as any.
And if this notice from the Michigan State Police is any indication, as readers have suggested, the campaign may be more hype than anything outside the norm in terms of actual inspections performed.
Michigan State Police announce enforcement for Brake Safety Week: https://t.co/7h5NehaYpw

— CVSA (@CVSA) September 3, 2015
In the linked notice, the Michigan State Police invite reporters to "observe officers conducting inspections at weigh stations and rest areas during this operation" and reiterate what we all know — the importance of brakes to, well, stop to avoid a collision, simply put.
Nonetheless, if you see stepped up enforcement come Labor Day and through the week, drop an alert in the comments or on Overdrive's Facebook page.