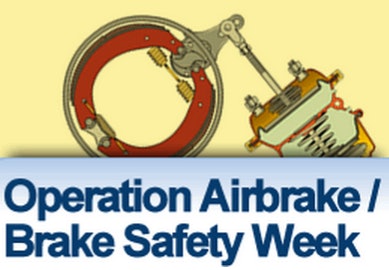 I had a conversation with Arizona Department of Public Safety last week about the state's enforcement program, split among DPS and Arizona Department of Transportation (at the ports of entry on all major routes) and the border-enforcement folks. More on their program later (they're perennially up in the top ten for statewide inspection intensity, with a fairly high percentage of hours of service violations but no other outlier-type statistics to speak of).
Nonetheless, part of the conversation with Captain Brian Preston touched on the ongoing "Brake Safety Week" campaign around the nation. He noted a single location in the entire state encompassing its participation in the Roadcheck effort, a model that may well be prominent around the nation this week given a dearth of reports thus far of stepped-up activity coming in from operators. What are you seeing? Drop us a comment below or on Overdrive's Facebook page.
Since I last posed that question, as is also often the case leading into the June "Roadcheck" inspection blitz, readers offered some evidence of state officials getting started early:
Via Facebook
Thursday last week:
David W. Elwin: Indiana I-70 WB Scale going full bore with inspections today.
Wednesday:
Brandon Hopkins: Casa Grande, Ariz., on I-10, the scales at the rest area are open and they are doing random full Level 1 inspections.
Preston with Arizona DPS noted the state's primary Roadcheck location typically is on I-40 farther north, but for this week they'd more likely be setting up various all-hands-on-decks at the ports of entry on the major routes through the state. Seeing anything unusual or just more of the same, let us know.
Hotels for the long haul
At the Great American Trucking Show almost two weeks back I ran into Dan Fuller, whom regular readers may remember as the trucker who founded and runs the Hotels4Truckers website, offering good search-and-book capabilities for hotels with verified truck-parking options.
At the show, he told me about a sweepstakes that's open for entries in collaboration with the Transfix brokerage — Transfix I wrote about when the company's smart mobile app launched a few months back, following and fitting the general themes of the "Uberization" of on-demand load matching coverage from April. In any case, the pairing's Long Haulin' Hotel Sweepstakes is now on the books and is taking entrants through September 14.
It's open to interstate haulers in the U.S. The prize? "The sweepstakes will award one lucky driver $3,000 in free hotel stays at Choice Hotels, including participating Comfort Inn, Comfort Suites, Quality Inn, EconoLodge, Sleep Inn and Rodeway Inn hotels," runs a press release.
"I started Hotels4Truckers because, being an owner-operator myself, I know firsthand that finding parking for your tractor-trailer isn't very easy," says Fuller of Hotels4Truckers and his own Fuller Transportation. "We got together with Transfix for the Long Haulin' Hotel Sweepstakes to empower one lucky driver in times when truck stops, rest areas, and other trucker-friendly parking lots are completely full or non-existent."
Using Hotels4Truckers, the winner will receive a 15 percent discount, stretching that $3,000 in hotel stays even farther. Like I said, entry for the Long Haulin' Hotel Sweepstakes is open through end-of-day September 14, midnight Eastern time.
To enter, here's what you'll need to do.
STEP 1: Fill out the form at the link above. Hitting submit will take you to download the Transfix app (iOS or Android).
STEP 2: Download the Transfix app and use the app's TransPath trip planner to map a route. (*You will receive an additional entry for every time you use the trip planner between now and October 6).
STEP 3: Register for your free Hotels4Truckers.com membership.