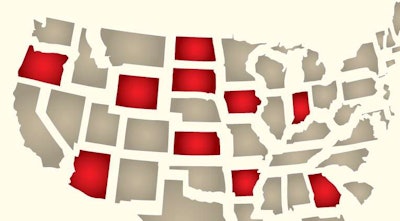 Oregon was the 2013 leader on this list, and its percentage of issued hour infractions fell by only a point in our analysis of the 2014 data. All states are ranked according to the percentage of all violations their total number of hours of service violations issued to drivers makes up. Though next week's nationwide enforcement focus is ostensibly brakes, you can be certain those detailed Level 1 inspections on the brakes and other vehicle systems will include a log check. The states detailed in the map above have commercial vehicle enforcement programs that go well beyond the national average of 10 percent hours violations
States other than Oregon banked a much larger percentage year over year between 2013 and 2014. The chart below reflects 1-10 in the hours "toughest states" rankings. The smaller blue bar shown for each state reflects 30-minute break infractions and their percentage of all violations in the state. Readers will take note of the high percentages of 30-minute-break violations in states that moved up the list significantly in 2014, notably Kansas, North Dakota and Arkansas, which this year took the top spot with nearly a third of its total violations relating directly to the logbook.
Stay tuned for a more in-depth report on the state's enforcement program, and access a bevy of charted data on inspection and violation intensity (or lack thereof) via the CSA's Data Trail main page at OverdriveOnline.com/CSA.