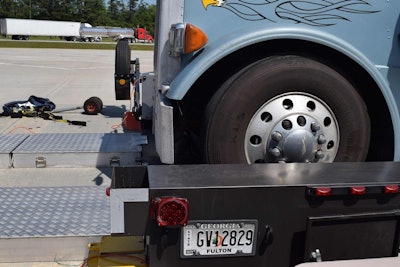 Analysis of data from calendar year 2015 shows a marked "Roadcheck effect" for June truck and drivers inspections much more pronounced than that seen in a similar analysis of 2014 numbers.
In the analysis, inspection numbers above (the rightmost bar in each vertical pair shows 2015 monthly numbers, 2014 totals in the leftmost) are truck/driver inspection totals for property carriers with some for-hire operating status for the 2015 April-August period. Data comes from the federal MCMIS database, filtered and crunched by Overdrive sister company RigDig Business Intelligence.
2015 Roadcheck resulted in a total of 69,472 inspections, the Commercial Vehicle Safety Alliance reported. Those inspections no doubt contributed to June's high 2015 total in the for-hire population of more than 280,000 inspections.
In 2015, the month of June alone accounted for 9.1 percent of total inspections throughout the year, the largest such share for any month other than September, the month in which the annual Brake Safety Week inspection blitz occurred.
The bread and butter of the Roadcheck event is the time-consuming Level 1 inspection. More than two-thirds of total inspections conducted as part of the three-day spree last year were Level 1s. Last year's Roadcheck focused in on cargo securement as a special area of emphasis. This year, tire safety is on tap.
Following, find the states with the greatest routine focus on tire violations through 2015 — all of these states, too, are top 10 maintenance-violation states but for Oregon, Alabama, and Missouri. Percentages in the interactive chart indicate the number of tire (orange bars) and maintenance (blue) violations as a share of each state's total violations.
Top 10 toughest states for tire violations (maintenance violation percentage overall in blue)
More Roadcheck/inspection-data resources follow: