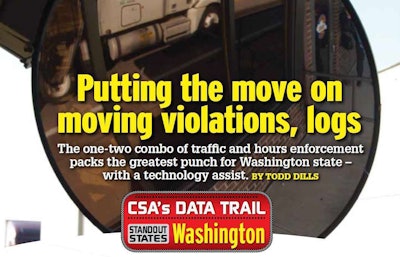 Washington state logged a 2 percent increase in truck violations in 2015. Nearly all of that increase was seen in the category of moving violations, which Capt. Mike Dahl of the state patrol's Motor Carrier Safety Division says is the result of a rededication among troopers to targeting behaviors that are more often the cause of accidents.
"It all goes hand in hand with our target of zero fatalities" by 2030, Dahl says, referencing a nationwide push for the ultimate in highway-fatality reduction. As part of that initiative, Dahl asked the state's crash analysts: "What are the top five things causing our crashes?"
As in other states Overdrive has profiled as part of its CSA's Data Trail series, the answer included not yielding the right of way, speeding and following too closely – by all vehicles on the road. The Evergreen State has held something of a high profile for its leadership in the TACT (Ticketing Aggressive Cars and Trucks) program by deploying enforcement personnel with truckers themselves to ticket unsafe actions by motorists around trucks.
"We do need to continue to educate, because the cars are doing a lot wrong," Dahl says.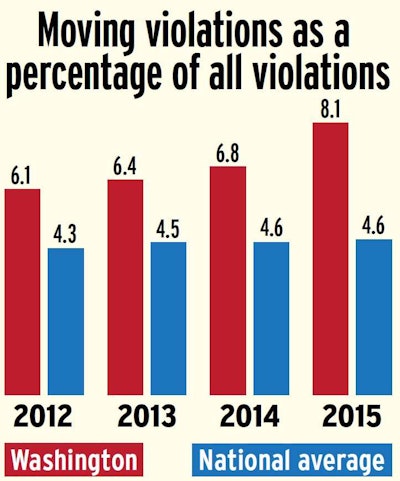 But in terms of the numbers in this analysis, it's clear that a focus on truckers' violations is on the rise. Dahl suggests that will be the case well into the future as "target zero" is emphasized.
Washington has been an established leader in truck inspections; it's the fifth most-intense continental U.S. state in Overdrive's CSA's Data Trail inspection rankings. The 2 percent rise in 2015 violations represents 2,060 violations.
As for moving violations, one road rumor is undeniably false, Dahl says.
Olympia-based owner-operator Tilden Curl had heard that the state patrol was using its license-plate reading technology – installed at 10 of its 11 fixed facilities around the state (five ports of entry and six interior scales) – to enforce speed limits. If a driver makes the roughly 100 miles between the southern port of entry from Oregon on Interstate 5 to the Nisqually scale too quickly, "they can pull you in and write you a ticket for speeding just based on the time," Curl says.
Dahl says that's not the case. His troopers "never use the license-plate readers for speed enforcement," he says. "I would not support doing that" since there's a lack of direct evidence of speed at any given time. But when it comes to citing for a false log book based on the evidence of license-plate readers, it's a different story.
Like its neighbor, Oregon, which records every truck that passes a scale in part for weight-distance tax purposes, Washington captures truck movements in a similar way with its license-plate-reading cameras. "A lot of people don't believe they track trucks like they do," says Curl.
As Dahl confirms, such records are used for hours enforcement and shared with states that request them. "We've been working closely with our neighbors for a long time for commercial vehicle enforcement," he says, particularly Oregon, Idaho, Montana, Nevada and Canadian partners to the north.
Overdrive's CSA's Data Trail has shown that Oregon, Nevada and nearby Wyoming are among the top 10 states with an intense focus on the log book during inspections. Montana also has appeared in the top 10 in the recent past.
Washington, however, doesn't seem to reach for one particular area of violation, and Curl credits the state patrol's inspectors for a balanced approach. His last inspection in Washington, at the Bow Hill port of entry on I-5 south of Bellingham, "was a pretty thorough inspection. They did a thorough job, and they were fair."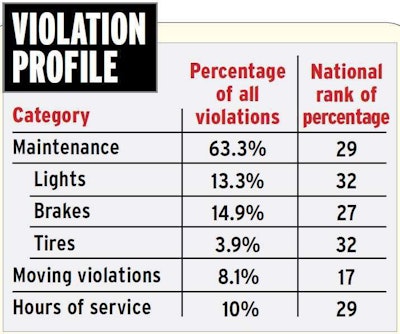 Curl, a board member for the Owner-Operator Independent Drivers Association, much prefers the kind of hours enforcement enabled by the external plate readers Washington employs to the intrusive route the federal government wants to take by mandating electronic logging devices.
Not that plate readers – or ELDs, for that matter – are foolproof by any means. A close friend of Curl's was about to be ticketed at a scale in Washington for log falsification. He knew something was wrong, however, as his log book was well in order.
He "asked them to pull up a picture of the truck" they were using for assessing the falsification. The record, captured by a plate reader, included a picture of a "truck that was totally a different color" – proof that the plate was a clear misread.
Keep that in mind when traveling the Pacific Northwest.
Find all of the CSA's Data Trail state profiles via the links below:
North Carolina
New Mexico
Mississippi:
Illinois:
Virginia:
Arizona:
Arkansas:
Wisconsin:
California:
Georgia:
Ohio:
Indiana:
Oregon:
Texas:
Connecticut:
Pennsylvania:
Maryland: