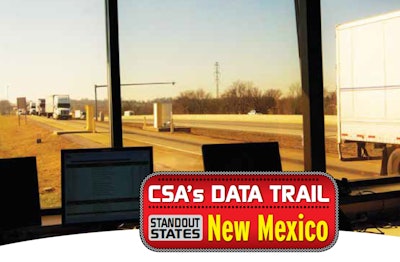 Capt. Greg Kerr of the New Mexico Department of Public Safety's Commercial Vehicle Enforcement Bureau has thoughts about highway safety that truck drivers may find familiar and sensible. His unit's 111 road officers see truck safety and the role of enforcement holistically, their actions dedicated almost as much to citations of automobile drivers as truckers and inspections.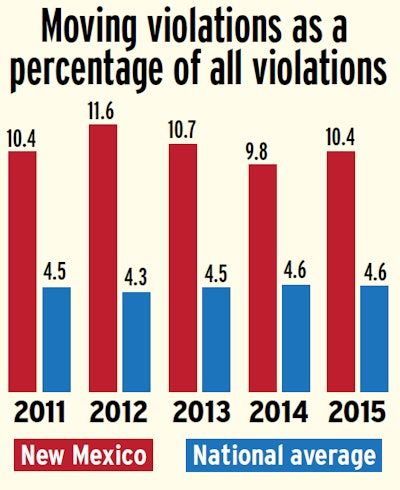 When it comes to traffic enforcement, four-wheelers are cited more often for speeding by officers dedicated to truck enforcement. In 2015, they issued just shy of 8,000 speeding citations to truckers, while automobile drivers received 10,000 such citations. On top of that, nearly 4,000 citations were issued to motorists for unsafe illegal actions around trucks – "following too closely, all kinds of improper lane changes, blocking," and more, Kerr says. "We're just as hard on the personally owned vehicles as we are on the CMVs."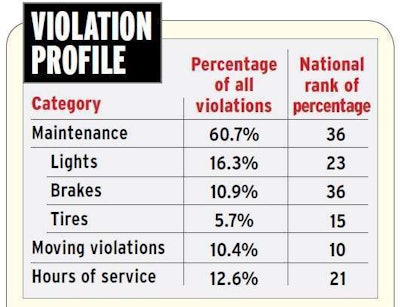 New Mexico consistently ranks in Overdrive's annual top 10 for inspection intensity, this year at No. 6. But its violation profile reflects what truckers have said about a measure of fairness. Responding to a question about recent experiences with New Mexico, Dean Furey recalled an inspection at the Gallup facilities on I-40 in the Western part of the state. "I think they are fair," Furey said. Carl Bagwell concurred, though noting personnel at the I-25 port of entry scale inside the Colorado border at Raton maintained a particularly active inspection program.
Speed-limiter bottlenecks
New Mexico Capt. Greg Kerr says perhaps the biggest recent safety issue he's noticed that's clearly under drivers' control is when a speed-limited truck is trying to pass another one limited at about the same speed."It might take them 10 to 12 miles to get by," he says. "You have a bunch of cars and trucks back up behind them and causing a safety hazard."It's this sort of hazard – among others – that has led what might be the biggest regulatory backlash in recent history among Overdrive readers: views against the U.S. Department of Transportation's plan to require electronic speed governing of trucks at a speed not yet determined.While Kerr advises truckers in such a situation to just "slow down – or speed up – a little" to either abort or finish the pass, or slow down and allow a passing trucker to get around quicker, he's also skeptical of the proposed speed-limiter mandate's safety efficacy: "I think the main thing is you keep a good following distance. It really doesn't matter if you're going 65 or 75. If a driver is a safe driver, it doesn't matter what speed you're going."
Kerr says that, in addition to the sworn road officers, the state also employs about 90 civilian inspectors who work the fixed locations, six major facilities on I-10 and I-40 on the Eastern and Western ends of the state, and I-25 in the North. Six other off-interstate sites located on state and U.S. highways near state borders also are manned routinely.
At the state facility in Lordsburg on I-10 near the Arizona border, Kerr says, technology increasingly is employed to screen trucks and ensure officers are most often "doing inspections on vehicles that need inspections." That targeted approach showed up in the state's 2015 numbers as 1.3 violations issued for every inspection conducted. That number is not high, lending credence to operators' testimonies of fairness. New Mexico ranks far down the list of the toughest states for violations per individual inspection, at No. 33. Among violation categories, the state only ranks particularly high in the moving violations category, where Kerr says it's put a fair amount of emphasis in areas where an uptick in oil-field-related traffic has created problems.
Lordsburg and some of the other larger facilities use a license-plate reader that also can automatically read DOT numbers. Weigh-in-motion and infrared detectors also are deployed, the latter at two facilities and via a van that can be deployed with portable scales to mobile inspection sites. Infrared scanners show inspectors an approaching truck's heat signature.
"We can tell if a tire's low, if the hub is too hot or too cold," Kerr says. "That's the future [of all screening]. You know when you're doing an inspection that it's on a vehicle that needs to be inspected. You're not wasting their time or your time. You're actually making a difference."
Next/related:
Find all of the CSA's Data Trail state profiles via the links below:
Mississippi:
Illinois:
Virginia:
Arizona:
Arkansas:
Wisconsin:
California:
Georgia:
Ohio:
Indiana:
Oregon:
Texas:
Connecticut:
Pennsylvania:
Maryland: