Trucking news and briefs for Friday, May 13, 2022:
Truck stops report low fuel inventories
Not only is diesel fuel consistently setting price records, but low inventories of the vital fuel have caused spot shortages at truck stops, specifically in the Northeast.
On Wednesday, Love's sent the following message to its fleet customers:
"Love's is monitoring the fluid situation on the East Coast; we have experienced minimal outages during low traffic hours. It is always our mission to keep diesel stocked to fulfill our customer commitment to keeping drivers on the road. The company has no plans to restrict purchases of diesel. Love's will continue to use its best-in-class logistics and fuel delivery companies, Musket and Gemini, to minimize impacts to our diesel customers."
Love's told Overdrive its fleet sales team "proactively alerted the company's fleet customer base to maintain their consistent, straight-forward approach to evolving market fluctuations."
[Related: How fuel hauler Lonnie Laurie became the sometime 'one-armed bandit']
At this time, Overdrive hasn't confirmed any specific truck stops running out of diesel. In March, Pilot and Flying J CEO Shameek Konar warned that diesel shortages may pop up as the industry struggles with supply chain challenges. On Friday, Brad Jenkins, senior vice president of supply and distribution for Pilot Company, made the following statement:
"We are aware of concerns over diesel supply in specific markets across the United States. Most markets in the eastern U.S. remain extremely low on diesel inventory levels, and refinery issues are creating tightness in the St. Louis and Indianapolis markets. To prepare, Pilot Company has built a resilient supply chain over the last several years and is taking additional actions to secure extra supply and mobilize our fleet to deliver diesel to areas facing tight availability, such as Virginia and Georgia. All other markets are currently adequately supplied.
Jenkins added that the company's conducting "contingency planning" to maintain steady diesel fuel sources. "We are closely monitoring the situation," he said.
If you spot a truck stop that's out of or rationing diesel, please get in touch with alexlockie@randallreilly.com.
[Related: November 2021's 'puzzling' diesel shortages at truck stops across America]
FMCSA: Insurance industry holding back agency's ability to analyze carrier insurance minimums
In a report to Congress this month regarding the current financial responsibility requirements for motor carriers, brokers and freight forwarders, the Federal Motor Carrier Safety Administration said the insurance industry's lack of transparency is a big reason the agency has yet to get behind any increase in carriers' $750,000 liability insurance requirement.
The report follows others issued on the subject over nearly 10 years since FMCSA study of the issue was required by law in the 2012 MAP-21 highway bill.
The agency said the minimum insurance requirements for carriers were set in the 1980s and noted that medical and other costs related to "catastrophic crashes have increased significantly." FMCSA also noted that, even though such catastrophic crashes are relatively rare, "the costs of resulting property damage, injuries, and fatalities can significantly exceed the minimum levels of financial responsibility."
Despite this, FMCSA said much of the information it would need to examine the adequacy of current insurance requirements is not readily available because many lawsuits are settled out of court and subject to non-disclosure agreements. Additionally, the agency said a lot of insurance company information is proprietary.
"Accordingly, FMCSA is able to provide only a limited assessment of the appropriateness of the motor carrier financial responsibility requirements at this time," FMCSA said in its report. "In order for FMCSA to adequately assess the sufficiency of the financial responsibility requirements, the agency would need access to more detailed information from the insurance industry, including anonymized claims data."
The agency said efforts to obtain such information using existing legal authorities and through requests for voluntary disclosure have been unsuccessful.
[Related: The pervasive trucking impact of nuclear verdicts hype, threat]
Last of Michigan weight restrictions lifted
Effective 6 a.m. Friday, May 13, the Michigan Department of Transportation lifted weight restrictions on all state trunkline highways in the entire state. State routes typically carry M, I, or US designations.
Weight restrictions are implemented during the spring thaw period and are now completed for the 2022 season.
County road commissions and city public works departments put in place their own seasonal weight restrictions, which usually, but not always, coincide with state highway weight restrictions. Signs are generally posted to indicate which routes have weight restrictions in effect, though some jurisdictions have moved away from posted signage.
Team drivers honored after rescuing head-on crash victims
The Truckload Carriers Association (TCA) has named truck drivers John Dowdy and Kloe Myers Highway Angels for stopping to rescue drivers from a serious head-on collision. The team hauls for K.L. Harring Transportation based in Bethel, Pennsylvania.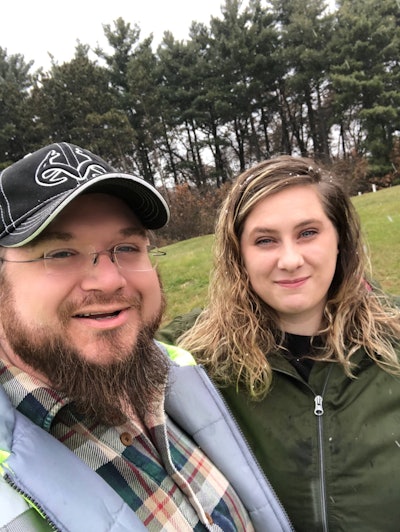 On March 10, in the early evening, Dowdy was driving with fiancé/co-driver Myers on Highway 60 in Lexington, Kentucky. Dowdy was the first on the scene at a serious head-on collision involving a Dodge Dakota smashing into a Ford sedan. Allegedly, the Dakota had attempted to make a left-hand turn and hit the Ford head-on.
Dowdy quickly applied the brakes and pulled over to the left to block the accident from other oncoming traffic. Both Dowdy and Myers ran to the two vehicles involved to assess the situation, help the drivers, and secure the scene.
Dowdy rescued the driver of the Dodge Dakota, who was dazed but not seriously injured, though the vehicle's front was completely smashed in.
"I was relieved that he was alive and I was able to break his door free and pull him from the truck," Dowdy said, "so we went over to the second car and we could not get his door open."
Myers helped bend the top of the door of the vehicle to reach the other driver involved in the accident. "She had already checked his vital signs and everything before I got there," Dowdy said. "She grabbed the top of the door frame and yanked back and pulled it."
The driver of the sedan suffered no serious injuries, though his car door had to be cut off to extract him. The driver of the Dodge Dakota, who later was arrested and allegedly charged with driving under the influence, allegedly pulled in front of the sedan and caused the accident.
TCA has presented the team with a certificate, patches, lapel pins, and truck decals. K.L. Harring Transportation has also received a letter acknowledging him as a Highway Angel.