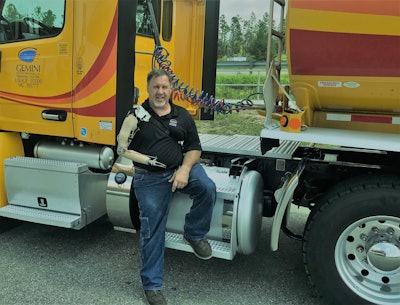 It wasn't a result of the kind of accident we most think about when it comes to hauling freight on the highways — rather, it involved a set of monster trucks then-owner-operator Lonnie Laurie ran in rallies, the "Michigan Ice Monster" and "Neighborhood Nightmare," as they were known. Airing up a flat on one of them after an event Memorial Day weekend in 1994, the worst happened, as you'll hear him tell the story in this week's edition of Overdrive Radio.
Periodically now, he says, "some people call me the 'one-armed bandit.'"
Undeterred by now being without his right arm, Laurie, in his 20s at the time of the accident, went on to haul as an owner-operator out of his native Quincy, Michigan, for some time serving the auto industry with a Landoll tilt trailer, then with a move to Minnesota eventually launching a lawn care and landscaping business that morphed into an excavating and heavy-haul fleet of 12 trucks. A divorce from his first wife prompted a change, including several years leased to Minn.-based Long Haul Trucking pulling flatbeds and step decks, to find his current work home with a move from the ice and snow of the Upper Midwest to Arizona, and the all-company-truck fleet of Gemini Transportation, hauling fuel with the carrier affiliated with the Love's Travel Stops chain of truck stops.
Through it all: Maintaining the medical variance he's received from the licensing regs that pertain to operators missing limbs. There's more to all of that in the podcast. Know that, perhaps more so than any physical challenge — even in the past with the demanding securement needs of heavy-haul and platform freight generally — Laurie calls the regulatory hoops and added accountability the variance has required his most significant challenge through these many years. Take a listen to much more of his story here: