Trucking news and briefs for Tuesday, May 10, 2022:
Diesel prices continue upward trend
Diesel fuel prices across the United States jumped another 11.4 cents during the week ending May 9, bringing the national average to another record high at $5.62 per gallon, according to the Department of Energy's Energy Information Administration.
At $5.62, diesel prices are now $2.44 per gallon higher than the same week a year ago.
For the second week in a row, the most sizeable increases across the country were seen along the East Coast, where the New England and Central Atlantic regions each saw 23.8-cent increases during the week. The Lower Atlantic region, also part of EIA's East Coast calculation, saw the third-largest jump during the week of 17.9 cents.
The nation's most expensive diesel can be found in California at $6.46 per gallon, followed by New England at $6.34 per gallon.
The cheapest fuel can be found in the Gulf Coast region at $5.34 per gallon, followed by the Midwest region at $5.39.
[Related: Fuel-market insanity: A tale of two loads, bedrock cost-control, rates-management tactics]
Prices in other regions, according to EIA, are:
Central Atlantic -- $6.32
Lower Atlantic -- $5.58
Rocky Mountain -- $5.46
West Coast less California -- $5.63
ProMiles' numbers during the week ending May 11 saw fuel prices increase by 28.5 cents, bringing its national average to $5.44 per gallon.
According to ProMiles' Fuel Surcharge Index, the most expensive diesel can be found in California at $6.38 per gallon, and the cheapest can be found in the Gulf Coast region at $5.22 per gallon.
Spot market rates, meanwhile, on average across segments lost some steam in the same week, according to FTR Transportation Intelligence and Truckstop.com's weekly update.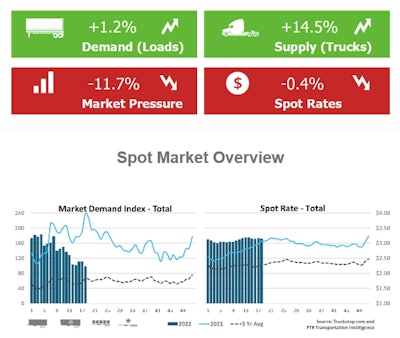 For the first time in quite a number of weeks, though, van and reefer rates were not the culprits in the overall decline, with load posts rising in both segments and rates moving accordingly. FTR and Truckstop.com noted a change, too, in carriers' control over truck posts that is boosting the number of truck posts made in the system, changing the significance of the load-to-truck ratio numbers.
Flatbed rates eased again this past week, leading overall rates losses with a fall of about 2 cents.
[Related: Diesel prices continue to batter profitability, soaring to new record highs]
FMCSA shuts down Texas-based small fleet
Sugar Land, Texas-based Jaypur Logistics has been effectively shut down by the Federal Motor Carrier Safety Administration for being "egregiously noncompliant with multiple federal safety regulations," the agency said.
According to FMCSA, the 18-truck fleet was identified for investigation based on its widespread violations documented by FMCSA and its partners during roadside inspections. The company had almost double the national average vehicle out-of-service rate and more than five times the national average driver out-of-service rate, FMCSA noted.
Attempts to reach Jaypur Logistics for comment Tuesday afternoon went unanswered.
FMCSA's review of the company found Jaypur to be in violation of numerous regulations, including: Controlled Substances and Alcohol Use and Testing (49 CFR Part 382); Commercial Driver's License Standards (49 CFR Part 383); Driver Qualification (49 CFR Part 391); Unsafe Driving (49 CFR Part 392); Hours of Service of Drivers (49 CFR Part 395); and vehicle Inspection, Repair, and Maintenance (49 CFR Part 396).
During its investigation, FMCSA found that the company "demonstrated a severe lack of oversight of its operations" and "could only identify a fraction of its drivers and vehicles operating under its authority." The company was also not aware that its drivers had hauled hazardous materials, the agency found.
Additionally, the company allowed six drivers to operate who were in prohibited status in FMCSA's Drug and Alcohol Clearinghouse. Jaypur drivers have been cited twice for operating under the influence and three times for on-duty possession of drugs or alcohol.
"Jaypur Logistics did not have a program to detect and deter the use of controlled substances by its drivers, did not have an effective program to ensure its drivers were qualified and licensed, did not have a program to control its drivers' hours of service, and did not have a program to ensure its vehicles were appropriately inspected and repaired," FMCSA concluded.
Louisiana police find $5.5M in cocaine in tractor-trailer
Two New York men were arrested Monday, May 2, when police found an alleged $5.5 million in cocaine in the tractor-trailer they were in.
Louisiana State Police report they seized more than 100 pounds of the substance from a tractor-trailer during a traffic stop.
The incident began when troopers stopped a 2005 Peterbilt 387 eastbound on Interstate 2 in St. Tammany Parish north of New Orleans.
During the traffic stop, troopers became suspicious of criminal activity and requested permission to search the vehicle. After obtaining consent, troopers searched the truck and discovered about 121 pounds of suspected cocaine.
Troopers arrested New York residents Melvin Contreras, 32, and Pedro Sarante, 40, on drug-related charges. The two men were booked into the St. Tammany Parish Jail.
New rest area open along I-26
The North Carolina Department of Transportation last week opened a new, $5 million rest area on eastbound Interstate 26.
The corresponding westbound rest area is set to open in the middle of June, according to the NCDOT.
​The new facility is located in Fletcher and features 30 truck parking spaces, a patio picnic area, a separate vending machine building, energy-efficient plumbing and a dedicated pet area.
"NCDOT takes great pride in its rest areas, not only in the mountains, but across the state," Division 13 Roadside Environmental Engineer Jeff Wait said.
I-81 rest area in Virginia set to close for summer
The Troutville Rest Area located on southbound I-81 near mile marker 158 in Botetourt County, Virginia, will be closed from after Memorial Day until early September, before Labor Day. During the closure, a temporary concrete barrier wall will be installed in front of the facility, so drivers will not be able to enter the rest area or use the parking lot and restrooms.
The Virginia Department of Transportation said the closure is needed for a project to extend the ramps into and out of the facility.
While the Troutville Rest Area is closed, southbound I-81 drivers can use the Fairfield Rest Area at mile marker 195 in Rockbridge County or the Radford Rest Area at mile marker 108 in Montgomery County, according to VDOT. Portable toilets and parking will be temporarily available for commercial vehicles at the Troutville Weigh Station located on southbound I-81 at mile marker 149.
VDOT said the existing ramps at this rest area are short, and extending them will improve safety by providing motorists more space to accelerate or decelerate. The off ramp into the rest area will be extended about 500 feet and the ramp onto southbound I-81 will be extended about 2,100 feet. The project also includes expanding the truck parking area at the facility by 10 to 13 spaces.