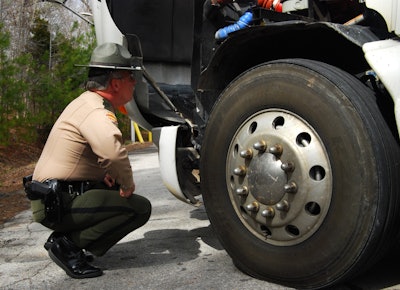 Headed into the annual Roadcheck inspections event -- scheduled for May 17-19, or Tuesday-Thursday next week -- a plurality of owner-operators responding to our preparations poll this week noted a time-honored approach to getting ready for an increased chance of inspection, as you can see here.
At the Mid-America Trucking Show back in March, I sat in on Wheel End Specialist Brian Beathard's wheel-end training session, meant for both maintenance pros as well as any truck owner with an interest in more fully understanding the inner workings of their equipment -- I'd say that describes any of you reading this, of course, which is good timing ahead of a Roadcheck blitz set to focus on wheel ends.
During the presentation, Beathard, with wheel-seal/wheel-end-components manufacturer RevHD, asked a version of this question: True or false: A moist or damp seal is OK?
Beathard then answered his own question by splitting the difference: "Unfortunately," he said, "it can often depend on the DOT inspector," as some are too quick to interpret lube on the seal as a violation of 49 CFR 396.5(b), indicating a leak. From Beathard's point of view, though, a moist or damp seal is OK, given most engineers prefer a seal to be lubricated before being seated. "It's when you have dripping or about-to-be-dripping [lube] that you have issues," and a true violation, Beathard said.
Last year, inspectors around the nation wrote upward of 94,000 396.5(b) violations, close to 3% of all vehicle-related violations recorded. Not all were for leaky wheel seals, but the Federal Motor Carrier Safety Administration has routinely emphasized hub and seal leaks as among the very most common of all maintenance-related violations.
An online-tutorial-style version of Bethard's MATS presentation is available at the RevHD website, and you can also catch a video of the presentation itself at the MATS website and on the MATS Youtube channel -- in it, he identified some of most-common reasons for wheel-seal failure. Quite literally a hundred different things can make a wheel seal leak, he said, as "the seal is the weakest link in the chain" that is the wheel end. Engineers designed them that way, so that the seal fails before the other components, essentially, offering opportunities for owners to correct issues before catastrophe occurs.
[Related: Preventing dramatic wheel-off incidents like this one could get a lot easier]
In terms of those hundred things, a most-common five categories emerge from Beathard's experience of wheel seal leaks.
Bad installation, or a cocked seal not seated correctly, Beathard said, whether the result of a mechanic "not using the right tool, or hitting it too hard and getting it crooked when they dial it in."
Incorrect bearing adjustment -- roughly half of Beathard's tutorial, he noted, is devoted to getting the adjustment right. "There are a lot of different systems with different specs and preset hubs with different spacers and sealers." The bearing adjustment that may have guided you on a 2010 Freightliner steer position might "be completely different on a 2011 steer."
A bad shoulder or hub bore, or other worn or damaged components.
Contamination, or not cleaning properly, particularly an issue for trucks spending time off-road
Clogged hub cap vent hole or drive vent -- both "need to remain unclogged," Beathard said. "If it's not breathing properly, pressure builds up and can blow out the seal."
As a fairly simple check for No. 4, Andy Malion, president of wheel-end-safety company Spectra Products, offered up the simple bearing fluid oil/grease check. "Pull the rubber cap off the front of the hub cap and stick your finger a little into the oil," he said. "Pull it out check for any metal particles that could be a sign of metal flaking," and bearings out of adjustment, No. 2 in Beathard's list above. "Also smell the oil -- it should not smell burnt at all, and should be clean and filled to correct level," visible through the view window on the front of the hub.
While you've got that cap off, check that the vent isn't clogged. Beathard recommended using a paper clip or something else to clear it of debris if needed -- something that is at or less than the diameter of the vent so as not to damage it by inadvertently enlarging it.
Malion noted "at a minimum you should check" bearing adjustment "at regular PM schedules to be safe, and anytime the ABS light comes on," also recommended in my colleague Jason Cannon's story on proper wheel end play. Find that story via this link. "An ABS light could indicate that the wheel end is overheating or a wheel is loose and should be checked, Malion added. "Wheel bearings that are out of adjustment can lead to diminished brake performance and brake imbalance, which in turn could create other problems."
[Related: Proper wheel end play the difference between bearing life and loose wheels]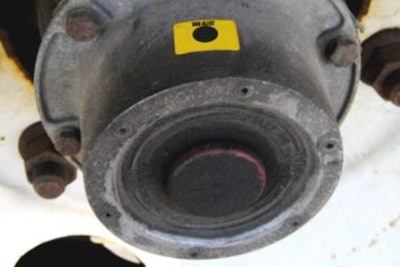 Regular readers will recall my story earlier this year about the LWS company's temperature- and pressure-sensing lugnut-installed sensors as well, which can deliver warnings to the operator in a high-heat or loose-lugnut event.
A variation on the theme comes from the temperature-sensing hubcap bolt, too, with a center pin that pops out when a problem temperature is reached. RevHD's caps come with one of these in every box, Beathard noted.
In the end, whether or not you're utilizing these kinds of products, a leaky seal is likely to be a first indicator of wheel-end problems. "These early warning signs must be addressed early," Malion noted, "or you could end up losing a wheel while driving or potentially a wheel-end fire, either way a very costly issue that could have been prevented with a proper inspection program."
RevHD offers a special program, too, if you're using its wheel seals. Watch that online tutorial I mentioned above and take a brief quiz at the end -- get at least an 85 out of 100 and the company will warrant your brakes, too, in the event of a wheel seal failure.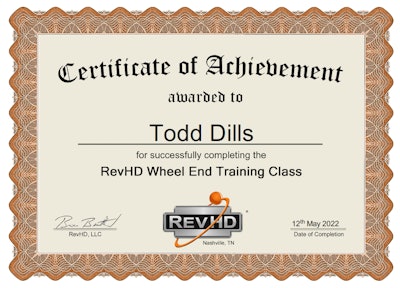 If you aren't subscribed to the Overdrive daily newsletter, this week you've missed a variety of republished stories aimed at offering insight relative to the increased inspection likelihood that Roadcheck represents. Below find links to those and other stories for further reading.
Get Roadcheck-ready:
**Preventing dramatic wheel-off incidents like this one could get a lot easier
**An assist for avoiding brake-adjustment violations
**Inside the 20% rule for out-of-service brake adjustment violations
**The states where brakes, vehicle enforcement is most intense
**Proper wheel end play the difference between bearing life and loose wheels
**Stay ahead of the inspectors: Maintenance topics in Overdrive
**Roadcheck prep: Invest in inspections now, save money, hassle later