Well, Mike "Mustang" Crawford has finally gotten all the way there. At around 5 a.m. Thursday morning, April 28, he passed 4 million miles, all without an accident, a feat accomplished by so many of the best of the best out there delivering the goods. There's a little wrinkle to that feat for Crawford, though, that regular readers may well recall from the day back when he hit 3 million: he ran every single one of them in the Detroit Series 60-powered 1994 Freightliner where he got his start, with a lease-purchase he ventured into with Prime 28 years ago April 6, completing the purchase a couple years later.
It was a load of drywall from Georgia Pacific in Oklahoma that took him to L&W Supply in Elk Grove Village, outside Chicago in Illinois, last week, and when he set out he knew that load would get him pretty close to that 4 million, and I bet he was knocking on the closest four-by-four as he tarped the load in Oklahoma, thinking to himself he was sure to get tied up in some on-highway conflagration with buzzing city four-wheelers before he got all the way there.
"Coming into Chicago I just knew I was going to get 20 miles from my 4 million and have a wreck," he said. "I was nervous, but I made it."
[Related: Mustang's 3-million-mile, one-truck haul nears end]
And as Crawford eased into the facility in Elk Grove Village he thought of his plan, relayed to me some months ago: he'd been carrying a rattle can of spray paint with intentions of marking the side of whatever highway he happened to be on when he crossed the 4 million threshold in the Freightliner. Yet he holds quite a lot of pride in his customer-relationship-building prowess, ultimately, one of four main points he makes when asked to look back on his long career steering the course of the 1994 and his now-independent business. "The lot at [L&W Supply] was a nice new one," Mustang Crawford said. No way he was going to put his marker there. The picture above, and the following one, showing what you can't see on the too-grainy screen up top, served the purpose, sent in a text my way right as I was waking up: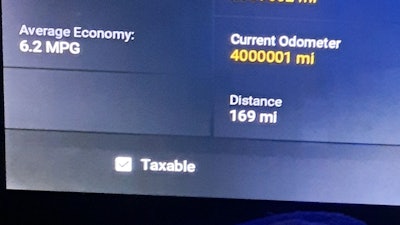 The other points of pride? "I've never been late picking up a load minus a few weather mishaps" through the years, he said. No 2: "I've never had a claim" for damaged freight or something else levied against his business. No. 3: The basic story here -- that a steady hand on maintenance, and a steady-as-she-goes approach to acceleration on the road, have built the Freightliner's ultimate longevity.
"I don't run that hard that often," he said, typically at about the speed limit on a given highway. Perhaps more importantly, "when I take off I'm doing low rpms before I get up to speed. Guys might pass and be five miles down the road and by mile number 6 I'll finally catch up to them."
For years he's stuck to a 24K-25K oil change interval, with 2 gallons of Lucas oil additive at every change. He uses Howes Lubricator's Diesel Defender and anti-gel fuel additives, depending on the season, on a regular basis. Over the lifetime of his truck, he's had but a couple sets of injectors the entire time. In the 2007-08 time frame, he took his truck in for an overhead, and Detroit engineers ended up putting in a brand-new set because they wanted to study the injectors in his truck to figure out how exactly it was that they lasted as long as they did, with more than 2 million miles on them.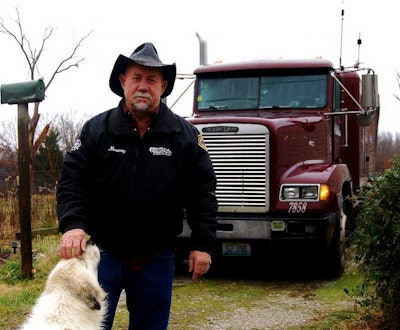 He didn't have a rebuild done on the engine until the year 2016, Crawford said, when one of those replaced injectors went out and he "decided then to go ahead with a rebuild," he said.
There's a lot of good luck in the longevity of the equipment, too. Crawford told the story -- not the first time I'd heard it, so forgive me if we're repeating it here -- of the day he selected the burgundy-brown rig with its pink and purple pinstriping. There were two trucks there to choose from, and another driver was present, also going down the path of a lease-purchase there at the time. The other driver favored the other, nearly identical truck -- the one with the gold and chartreuse pinstriping. He didn't like the so-called "girlie" colors, Crawford said. "That's all right," I told him. 'I like the numbers on this one.'"
Crawford's truck was number 6100 in the Prime fleet, for his lucky-number seven added together. The other rig was 6101 -- added up to eight considering the digits together. "Eight and a zero," Crawford said. "Aces and eights are a dead man's hand. ... He didn't have his truck six months before the transmission went out or something else" lost to Crawford's memory, he said. "In 28 years, if we added up everything I've paid for" beyond preventive maintenance, he said, with "discounts at Prime and everything I've done on this truck, I don't have $25,000 in total repairs on it" over the lifetime of it.
Here's to a reliable truck, well-maintained, well-driven. Glad you hit the milestone, Mustang.
Keep on truckin' ...
Anybody else out there with similar stats all logged in a single truck? I'm all ears: tdills@randallreilly.com.
Hear more from former Overdrive Owner-Operator of the Year (2009) Crawford via this 2021 podcast, about the rise and relative decline of the CB as a social utility. Follow this link to read more in various stories about his business' history, now hauling almost exclusively for Prime's brokerage after years leasing to the fleet.