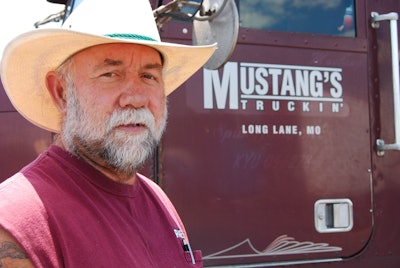 Last time we checked in with Overdrive 2010 Trucker of the Year Mike Crawford it was on the occasion of the death of his longtime trucking companion in his dog, Fred. This time round, Crawford stopped on his way through Nashville for a brief talk and photo shoot. Crawford, who recently got his DOT authority — note the "Mustang's Truckin'" emblem on his 1994 Freightliner's door — and went out on his own hauling dedicated for his former leasing carrier Prime's logistics division, as is his way, had a rousing tale to tell that had little to do with the continuing success of his business or his trucking life at all, really, though it began with a phantom pre-Mother's Day load he'd told his wife he was moving from Colorado to Montana.
"I was in the Marine Corps when I was 17," Crawford says. "I entered boot camp November 10 in 1965 and graduated in January in 1966. Everybody in the oufit ran across the border to Tijuana and got themselves a tattoo. I didn't. I'd never been to Mexico and didn't want to go anywhere but to Vietnam. So I didn't do it."
On Friday prior to Mother's Day weekend, Crawford's wife, Phyllis, got a call from an old Marine buddy of Crawford's, a man he'd gone to boot camp with and who'd been in his unit in Vietnam. "I have stayed in contact with them over the last four-five years, and they were going to be in Springfield," says Crawford.
"He's out in Colorado," his wife told the friend, but truth was, as Crawford puts it, "I was pulling a con job on her and was going to surprise her for Mother's Day. Chuck, my friend, called me and said, 'Hey, we're in Springfield'" in Missouri, 45 minutes from Crawford's Long Lane, Mo., home. "'I'm in Springfield,' I said," says Crawford, "and to make a long story short, they came by and got me and we met a few other guys. We're telling stories, and I was talking about having never gotten a tattoo. We kept talking, and the more we talked the more we kept coming back to the tattoo. I haven't really had the money or time to get one since. They said, 'We'll get you one.'"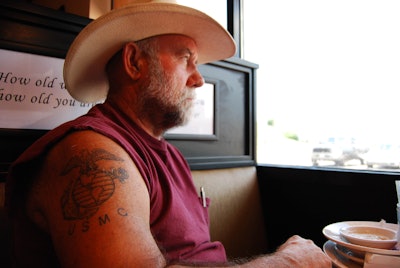 At 1 a.m. Saturday morning on Mother's Day weekend, Crawford finally got that tattoo, here pictured. Phyllis approved, Crawford says. "She got two presents on Mother's Day One: A new TV for the bedroom. And two: a tattoo on my right arm. I'm not going to get an ear pierced or anything else, but she's actually given me permission to get the Marine Corps bulldog on my left arm."
Updates to come, no doubt.
Read the February 2010 Overdrive cover story about Mike Crawford.