When the Overdrive Show Us Your Ink tattoo gallery got going a couple weeks back, I immediately thought of Mike "Mustang" Crawford of Long Lane, Mo., owner-operator of Mustang's Truckin' and one of our former truckers of the year, back when he was leased to Prime. He's running with his own authority today, and back in 2011 I wrote about the story of his one and only tattoo, the United States Marine Corps tat you see here, taken at the time.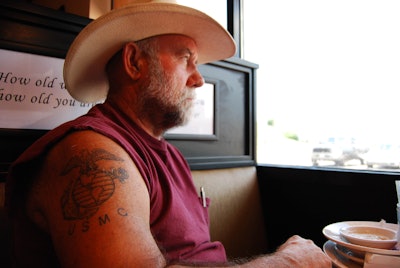 The story of where the tattoo comes from was (and is) a great one, involving a gathering of pals in Springfield, Mo., a bit of regret on Crawford's part that he didn't join others among his unit on a trip to a Tijuana tattoo artist back when — and a late-night visit subsequently to a Springfield artist. You can read it here.
I spoke briefly to Crawford this morning — he was under a flatbed load of steel headed west on I-40 in Oklahoma after embarking from the Flying J in Sayre, where he spent an interesting night. "The wind rocked me to sleep until finally the wind woke me up," he said. Reports of a tornado touchdown this morning near Pine Bluff, Ark., were all over Twitter as the system moved east:
Possible rain-wrapped #tornado embedded in squall line tracking near the Pine Bluff, AR area. pic.twitter.com/EqY8JmfMvq

— TWC Breaking (@TWCBreaking) October 13, 2014
Last night was a lot of fun," Crawford said. "I came into thunderstorms in Oklahoma, and at mileamarker 49 all kinds of blue lights were in front of me on the eastbound side. There were two big trucks blown over there, laying on their sides in the left-hand lane on the eastbound side, cars and other vehicles all over in the ditch on the other side of the service road. Eventually I ran out of that system. And here it came again — I seemed to hit it three different times" before finally stopping in Sayre.
"If you're in a lightweight high-profile vehicle," Crawford added. "Watch you're doing on I-40."
And speaking of tattoos, Crawford's still got just the one. Though as he'd mentioned to me back in 2011, he still plans to "get the American flag on my left arm, and I'm going to get the Marine Corp 'devil dog' bulldog on my right arm." Stay tuned.
Meantime, here's one that came in through our Facebook page via "The Kid," five-year driver Josh Hoffman. (It's now over in the gallery, too.)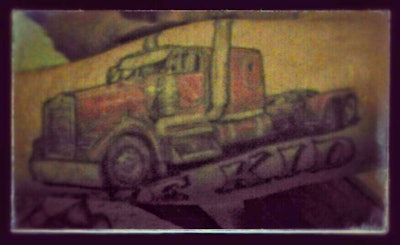 This one's plenty easy to explain. As Hoffman tells it, the tattoo depicts his "favorite truck, the Kenworth W900L."
If you've a tattoo with a story behind it yourself, share it with us via the Show Us Your Ink gallery. There's already a nice collection there that you can peruse for inspiration or Monday diversion via this link.
[youtube ZXokZTne9uM nolink]