Another fond memory here of Mike "Mustang" Crawford's trucking companion, Fred, who passed on early the morning of Thursday, March 24, 2011. The memory and the wonderful picture here come from Lucinda Coulter, Overdrive's managing editor, who met Crawford for the first time in person during a photo shoot to accompany our Trucker of the Month feature about him in February 2009. He would later go on to be our Trucker of the Year the following February.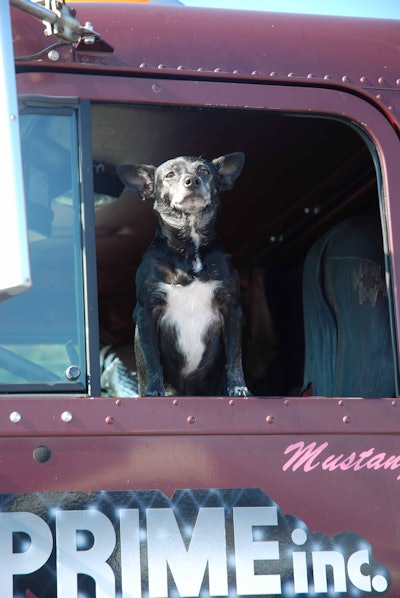 Fred, a pet and longtime cab partner for Mike "Mustang" Crawford, rushed to the window as soon as Mike opened the door of his 1994 Freightliner. The small black-and-white dog, like everyone else, seemed to appreciate the sun that bright Sunday morning at the Cottondale, Ala., truck stop where Mike had stopped to have his photo made for a February 2009 Trucker of the Month feature.
When Mike reached over, lifted Fred up and swung her into the cradle of his arms for photos of the two together, she knew she'd taken the spotlight. She was accustomed to and comfortable with being loved and happy returning it to a much-respected owner. She relished the moment when I snapped the photo of her peering out over the truck window. Then she stood in a pose appropriate to her role: the rein of a queen.
Others who met her recognized her affection, too. In 2010, when Mike was hospitalized with H1N1 flu at Sarah Bush Lincoln Health Center in Mattoon, Ill., security guard Carl Daniels happily took care of Fred until Mike was released.
The glossy, small and smooth doggy was quiet and well-behaved. She was a wonderful complement to a gregarious trucker who has made hard work his life.
Those of us who met her will remember her, too, in the way that we appreciate comforts that shield against life's turbulent times. We hope that Fred's memory will buoy Mike on all the roads he travels. –Lucinda Coulter
Well put, Lucinda, well put. When we heard the news of Fred's passing, coincidentally, Coulter was putting together a story for the Overdrive Retro site to chronicle a few of the many trucking dogs featured in the magazine throughout its 50-year history. Fred, as it so turns out, is one of those dogs. See the just-published story on OverdriveRetro.com here.