When I interviewed the Speed Channel's 'American Trucker' program host Robb Mariani back in January, he was "on set" in the passenger seat of a Diamond Heavy Haul driver's rig, hooked to a "huge electrical component" en route south across Ohio to an Ohio River port. "I think it's probably the heaviest haul I could have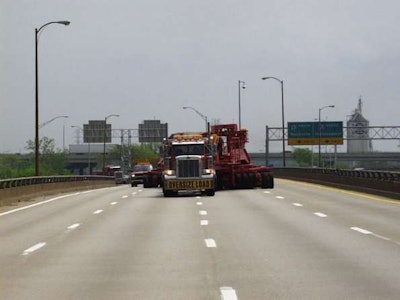 imagined – the rig they have they build from scratch. It's got 114 tires and is more than 250-ft. long. At 600,000 pounds, we're hitting bridges at 5 miles an hour." See the pic here for just a little of what they do.
I advised folks in the my "Exit Only" column in the March edition of Truckers News to keep an eye out for heavy-haul action in a coming episode. Well, the time is now; "Big Load," as it's called, premieres tomorrow (Thursday, March 24) night at 10 p.m. ET, with rebroadcasts at 1 and 10 a.m. Friday. Mariani told me the haul was around 150 miles in total, across Ohio to the Ohio river, where the electrical component would be loaded on a barge to continue on from there. "It's not the longest haul," he said, "but withe all the spectacle of" the numerous escorts and slowdowns, due to its size "it's taken days."
For further scheduling information, visit the American Trucker page on Speed's site.
"Big Load" will be followed in both 10 o'clock slots by the truck customizer episode "Haulin' in Style" that I wrote about last week.
For more, see my original post about the show from early January.