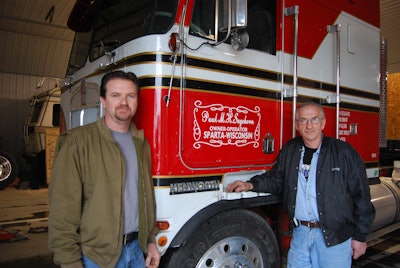 Imagine my surprise when, upon clicking over to a YouTube preview of SPEED's upcoming "American Trucker" series, I came upon a familiar face within the first several seconds. That face was Sparta, Wis.-based Paul Sagehorn (pictured here with his father, Craig), owner-operator of two classic pop-culture Kenworths, one employed in the filming of the Movin' On TV series in the 1970s, the other, more recent acquisition (and which I've written about extensively in the past several years) a K100 cabover featured in the B.J. and the Bear series.
The truck the Sagehorns are standing next to above, in turn, is a B.J. and the Bear replica Paul owns as well. For the first episode of the new series, premiering Thursday, Feb. 24, at 10 and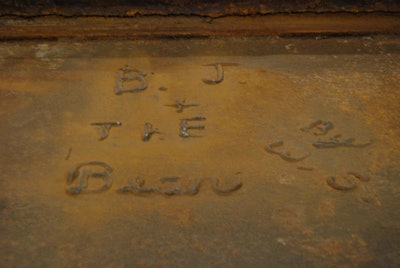 10:30 p.m. ET, and running weekly thereafter, host Robb Mariani (pictured, below), a longtime trucking enthusiast, follows Sagehorn through restoration of the original B.J. reefer unit and trailer and as he takes the truck and trailer for a visit to the originating Kenworth manufacturing facility in Chillicothe, Ohio.
If you missed my last reporting on the rig's restoration in 2008, Sagehorn found all manner of interesting features when he tore down the rig, and managed to track down several builders via various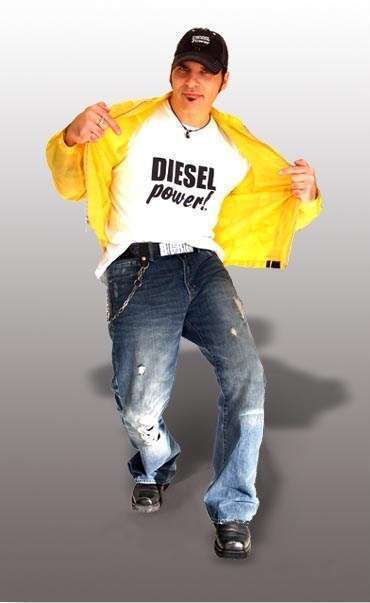 clues they left in signatures on hidden parts of the truck. On the back of the fifth-wheel plate, for instance, welder William Sorell tagged with welding solder "B.J. & the Bear, By W.S." (also pictured). You can see Sorrell in the preview clip below (he's the longer-haired gent at the plant about 2 min., 48 sec., in who says, "I would have never dreamed something like that would come home 30 years later").
Says Sagehorn, "The plant event was July 24 [last year]. It was a good experience. We met with some of the people that worked on the truck, [including] Tom Hice, the guy you tracked down at the plant that painted the inside of the cab. He ended up giving us a tour of the plant."
All in all, a fitting end to a long-evolving story. Enjoy the clip below, and for more about the series, visit the website.
[youtube lYQ9klPp-9E nolink]